Volunteer
It only takes one person to make a difference in the life of a child. With help from our 70,000 volunteers, we've been able to serve more than 1.25 million young people each year.
"Communities In Schools has inspired me by displaying how our youth can be given opportunities to succeed when people around them are willing to help."
-Terrence Thomas, Communities In Schools volunteer and community partner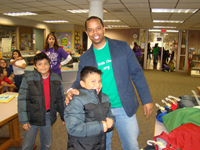 Ways To Volunteer
Communities In Schools affiliates across the United States need your support.
Mentoring

Mentors provide a positive influence, encouragement and hope for young people often surrounded by negative influences.

Tutoring

Help students in need of extra academic support.Tutors can provide them with positive reinforcement in an academic area.
Community Partners

Individuals who work for agencies or businesses can be guest speakers, group facilitators, job shadow sponsors, and more.

General Volunteer

We are always in need for volunteers to help with events, special programs, or other needs.
Communities In Schools Affiliates
Beyond the Classroom Blog
My visit to Chaparral High School reminded me that for some kids, even Main Street looks like a dream destination -- and they don't have the bus fare to get there.

Even while she was recovering from breast cancer, Brenda Middleton was taking care of her students.

What I've found over the years is that problems -- and solutions -- often look quite different on the periphery.
Visit the Blog