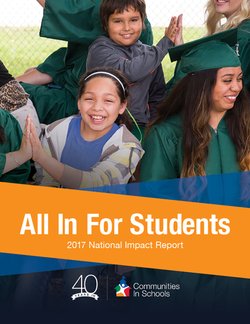 Young people of all backgrounds and abilities thrive when adults care about them on a one-to-one level, and when they have a sense of belonging to a caring community. That's exactly what Communities In Schools (CIS) provides IN SCHOOLS, every day.  We harness available resources in communities, and match them with each student's needs to help them overcome the academic and non-academic barriers to achievement. 
The 2017 All In For Students National Impact Report outlines the accomplishments of Communities In Schools during the 2015-2016 school year. It includes data on the percentage of students who were promoted from one grade to another, graduated from high school or otherwise improved their performance. It also includes projections for how CIS is serving more students in the current school year to ensure even more kids receive their diplomas. 
Key findings among our case-managed students include:
99 percent stayed in school
80 percent improved attendance
88 percent improved their academics
91 percent graduated or received a GED
93 percent were promoted to the next grade
The Reach of Our Network
CIS
has a presence in 25 states and the District of Columbia. Last school year, we served 1.48 million students, working in 2,300 schools and 364 school districts throughout the country. See where we are making a difference in your community.
* Data updated annually. Please visit the affiliate website for the most current data.
All In For Students Awards Recipients
Meet our award recipients, who go all in for students, empowering them to stay in school, graduate and go on to brighter futures.