Kimberly Davis
Executive Vice President, Social Impact, Growth Initiatives & Legislative Affairs for the National Hockey League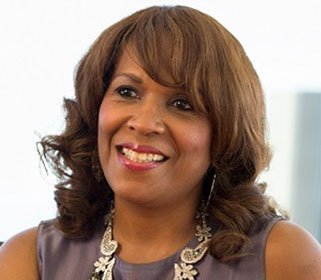 Kim Davis is the Executive Vice President, Social Impact, Growth Initiatives & Legislative Affairs for the National Hockey League.
Prior to this position, Ms. Davis spent over 30 years in the financial services industry, where she served in wide range of line and staff leadership roles, including: Director of Recruiting, Training & Development for Global Banking; Human Resources Executive for Latin America; Global Director of Leadership Development; and Talent Management and National Sales Manager for Private Banking. Her academic training and corporate experience in Sales, Marketing, Product Development, Strategic Planning, Leadership Development and CSR has helped her develop a unique set of skills that have been used throughout her career.
Ms. Davis co-founded Springboard, Partners in Cross-Cultural Leadership, a leadership education and consulting company committed to building highly-diverse teams. Her passion for the issues surrounding leadership for women prompted her to help develop, design and implement a national leadership center – Spelman LEADS – Center for Leadership & Civic Engagement in collaboration with Spelman College, where she is a trustee and chairs the HR Committee. She also serves on the boards of the Executive Leadership Council and Deloitte's Center for Inclusion and Leadership.
Prior to joining the NHL executive leadership, Ms. Davis was Senior Managing Director and founder of Teneo Diversity and Inclusion. Before that she was the Managing director of Global Philanthropy and CSR, President of the JPMorgan Chase Foundation, and a member of JPMorgan Chase's Executive Committee. Her responsibilities included: overseeing the firm's approximately $218 million in annual giving; employee volunteerism; civic engagement; community relations; and strategic corporate marketing programs.
Ms. Davis has been a featured keynote speaker at numerous colleges and universities, guest lecturer at Smith College, and a featured panelist at the Forbes' Inaugural Women's Leadership Summit. She has been featured in a number of publications, including: The Business Journal's "100 Most Influential Women," Black Enterprise, Forbes, Pink Magazine and FastCompany's "100 Most Creative People in Business." Most recently she was profiled in Essence Magazine's "28 Most Influential Black Women in America."
Ms. Davis earned a bachelor's degree in Economics and Finance from Spelman College in Atlanta. She completed ARC International's Advanced Leadership Program and the Aspen Institute Executive Program.
Are You #AllinforKids?
Join our community of changemakers and stay connected with us! 
Learn more about the work Communities In Schools is doing and help us set students up for success in the classroom and beyond.
↑

TOP