Talitha Halley
Administrative Manager, Planned Parenthood Federation of America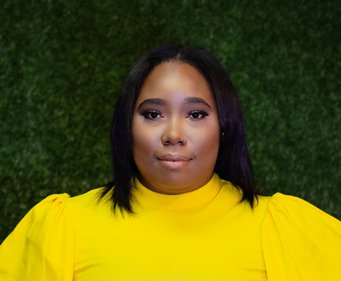 Talitha Halley is a proud graduate of Howard University and an alumna of CIS of Houston. Talitha found her passion for activism when her family was uprooted from their home in New Orleans, due to the devastation of Hurricane Katrina. It was then that Talitha decided that she would live a life of service and that she would not let the tragedy that happened to her, dictate her future. She was an athlete and magnet student at Sharpstown High School. During her junior year she applied to the Congressional Page Program and was selected by Congressman Al Green out of 500 applicants to represent Houston. During her time in Washington, DC, Talitha decided that upon graduation she would obtain her bachelor's degree in political science from Howard University. With the help of CIS and her site coordinators Donna Wotkins and Eric Johnson, Talitha made all of her dreams come true.
At Howard University, Talitha remained active and was involved with a number of organizations on campus including: Alternative Spring Break (ASB), NAACP Howard University Chapter, Endustry Power Players, and Phi Alpha Delta Law Fraternity International. She also obtained notable internship experiences including being in the inaugural class of interns at the White House Initiative on Educational Excellence for African Americans during the Obama administration and the undergraduate intern at The Cox Pradia Law Firm.
Her experience at Howard would help shape her world view and during her senior year Talitha decided that she would no longer attend law school, but instead pursue an alternative career path in branding and fashion – focused primarily on transforming the industry through diversity and inclusion for people of color. Post-graduation Talitha went to work at Radio-One Baltimore as an integrated marketing specialist, Under Armour Corporate Headquarters as an account services associate and a number of positions at Planned Parenthood Federation of America, where she is currently working as an Administrative Manager. Additionally, Talitha is running her own boutique creative and style consulting firm.
Talitha, while creating her own destiny, has never wavered in her commitment to work with Communities In Schools. With 13 years of involvement in the organization, Talitha's CIS journey began her freshman year of high school and continues well into adulthood. She's had the opportunity to experience CIS as a student receiving services, intern, spokesperson and advisor to the last two presidents. Talitha  has stated that she is passionate about CIS because the organization has afforded her opportunities and a life that would have been extremely difficult to obtain without it. Talitha's commitment has always been rooted in gratitude and ensuring that she can reach back and pull other students forward. She has been a devoted member of the Alumni Leadership Network since its inception to ensure that students don't feel as though their CIS experience is over once they graduate and that we continue to live out our mission.
Are You #AllinforKids?
Join our community of changemakers and stay connected with us! 
Learn more about the work Communities In Schools is doing to empower and equip every student to take on and tear down the barriers that stand between them and an equitable path to education. 
↑

TOP