Empowering Young Men of Color Starts In Communities
By Dan Cardinali Feb. 28, 2014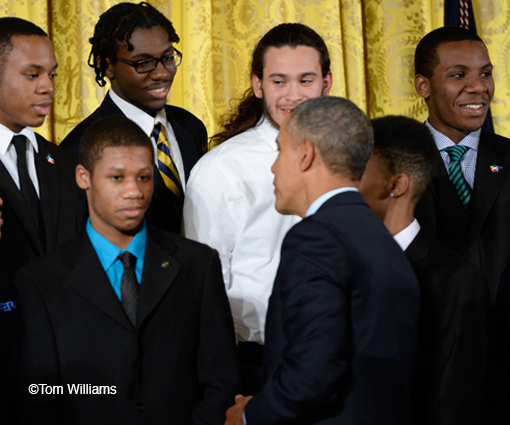 On Thursday, February 27, President Obama announced a new initiative, "My Brother's Keeper," that will bring foundations and companies together to test a range of strategies to support young men of color by keeping them in school and out of the criminal justice system. This initiative is focused on finding and then implementing strategies and programs that are proven to work. Over the past 35 years, Communities In Schools (CIS) has developed the nation's most effective, proven model to empower minority and low-income students to stay in school and achieve in life by removing obstacles to learning both inside and outside the classroom. Every day, a disproportionate number of minority and low-income students find it difficult to come to school prepared to learn while they struggle with the effects of poverty. No matter how extraordinary the teacher, principal or curriculum, these children living in chronic poverty are fundamentally compromised in their ability to take full advantage of the investments being made on their behalf. As a result, every 26 seconds, a young person in America drops out of school, resulting in a staggering 1 million student dropouts each year. The picture is bleak for these students who do not stay in school. Individuals who do not finish high school earn nearly $1 million less over a lifetime than college graduates. Each year's dropouts will cost the nation billions in lost wages, taxes and productivity over their lifetimes. Much of this can be avoided through proven dropout prevention programs like CIS. Rather than duplicating services or competing with other youth-serving organizations, CIS's trained Site Coordinators mobilize communities to deliver essential resources and support from eyeglasses to food or even a home, so that students at risk of academic failure can focus on learning. Site Coordinators like 34-year-old Jason McGrady, who manages campuses across the District of Columbia, help facilitate relationships with dozens of community partners. The Capital Area Food Bank and Martha's Table are two such organizations that provide food, school supplies, clothing and other forms of needed aid for students. With more than 200 local affiliates, CIS works with approximately 1.35 million underprivileged K-12 students each year in the most challenging communities across America. In the areas served by CIS, 99% of potential dropouts stayed in school, while 96% of eligible seniors graduated. In addition, 97% of CIS's students were promoted to the next grade. According to an independent study, among all existing fully scaled dropout prevention programs in the U.S., CIS has demonstrated the strongest reduction in dropout rates. Another study calculated the benefit of student success to local communities, with every dollar invested in CIS creating $11.60 in economic benefit for the community. Moreover, these results are achieved for only $189 per student per year. The nationwide benefits of programs that provide integrated student supports are clear: students who take part in these programs earn more and are less likely to be dependent on social services or enter the criminal justice system. It is critical that the Administration and Congress broaden the focus of education initiatives and funding to support evidence-based programs that address barriers both inside and outside of the classroom as well as provide incentives for schools to offer integrated student supports in communities. According to a recent poll, an overwhelming 83% of Americans support CIS's integrated approach to improving education. We do not have to search for a macro or micro solution to empower our nation's minority and low-income students to stay in school and achieve in life – CIS is both.  
Are You #AllinforKids?

 
Join our community of changemakers and stay connected with us! 
Learn more about the work Communities In Schools is doing to empower and equip every student to take on and tear down the barriers that stand between them and an equitable path to education. 
↑

TO TOP