Opening Hearts and Minds, Book by Book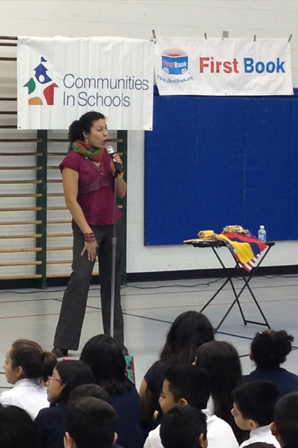 The bright spot on a cloudy and cold Chicago day was the reason why I was in Chicago. I was there to celebrate a kickoff event for Book by Book, a partnership between Communities In Schools and Capital One Bank that will bring 50,000 books to elementary school students. The program highlights the common goal each organization has to ensure that schools serving kids in need have access to critical resources to help students succeed academically. My colleagues and I arrived at Carson Elementary on Thursday to help the Communities In Schools of Chicago team organize books that each teacher in the school chose for his or her students. By the end of the afternoon, we had bags and bags of books, sorted by teacher and grade, ready for Friday's distribution. On Friday morning, I watched as Jasmin Cardenas—a bilingual storyteller —interacted with third graders through storytelling—including sharing her own story. Like that of many of the children attending the assembly, Jasmin's story was one of parents who immigrated to Chicago. She told of being teased when she translated for her mom at a local store. By a show of hands, we saw that many of the students identified with her story. Later in the morning, I had the pleasure of visiting classrooms and reading to the kids. I love to read and it truly made me happy to know that every student at the school would be going home with a book. The first book I read was The Ninja Pigs. The class had already read the book, but they were so excited to hear me read it aloud to them. After I finished reading, I asked them about their favorite parts of the book. Their hands shot up, and they waited eagerly for me to call on them. When we started giving the book to each student, there was joy all around. I asked if they were going to read their book when they got home, and they all screamed yes. Shortly before I left the classroom, the students gave me hugs. When I arrived at my next class, I told the students I had travelled "all the way" from Washington, D.C. to read to them. It was awesome to see them calculate how far Washington is from Chicago, and one student even told me he was going to D.C. for spring break. As I read the book with my Communities In Schools of Chicago colleague Nora Garcia, I could see the faces of the students light up with anticipation to find out what happened next. After distributing the books and leaving the classroom, I had a renewed sense of how important the work is that we do at Communities In Schools, and how essential our corporate partners are in helping us fulfill the mission of keeping kids in school so they can not only imagine—but achieve—bright futures.   
Are You #AllinforKids?

 
Join our community of changemakers and stay connected with us! 
Learn more about the work Communities In Schools is doing to empower and equip every student to take on and tear down the barriers that stand between them and an equitable path to education. 
↑

TO TOP