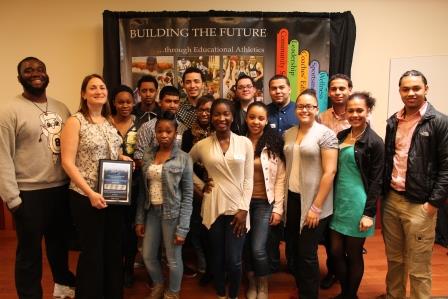 When I started working as the Communities In Schools site coordinator at the English High School in Boston, I knew right away that I wanted to create opportunities for students to give back to their community. Our students come from different parts of the city, but I wanted the community to know that English doesn't just bring hundreds of teenagers into the neighborhood. It brings all their talents and gifts as well! I started a student club called the Service To Mankind (STM) Crew, which puts the school's motto of "honor, achievement, and service to mankind" into action. It's a natural fit with the Communities In Schools basic that all students need and deserve a chance to give back to peers and community. Volunteering has been a major part of my life (Peace Corps Honduras 2008-2010) and I wanted to share the benefits of service with our students. The members of the STM Crew meet weekly to plan service projects and volunteer as a team with local nonprofits. We have a monthly project with Community Servings, an organization that prepares and delivers 7,500 healthy meals to chronically ill people per week. The students prepare and package food while gaining an understanding of the needs of others and having fun with their peers. They acquire leadership skills and compassion for others, as well as practice healthy peer interactions with classmates. Not all of the STM Crew's service activities are geared toward helping the less fortunate. Some support the arts and promote community involvement. Last New Year's Eve, members of the group volunteered with the Back Alley Puppet Theater as puppet captains to help recruit and organize volunteers in the First Night Boston parade. Many of our students are newcomers to the country, but they were able play an important role in this event.
In April 2014, the STM Crew was presented with an award for Outstanding Service to the Boston Community by the Massachusetts Interscholastic Athletic Association (MIAA). Students were invited to the awards ceremony at Northeastern University and formally recognized for their commitment to serving others. I truly believe that all students need and deserve a chance to give back to their peers and their community. Living by that value has shaped who I am, and it's been a privilege sharing that with my students. No matter their struggles or where they come from, young people have something to offer. As a community, we need to listen to them, give them a chance to nurture their gifts and recognize their talents.  
Are You #AllinforKids?

 
Join our community of changemakers and stay connected with us! 
Learn more about the work Communities In Schools is doing to empower and equip every student to take on and tear down the barriers that stand between them and an equitable path to education. 
↑

TO TOP