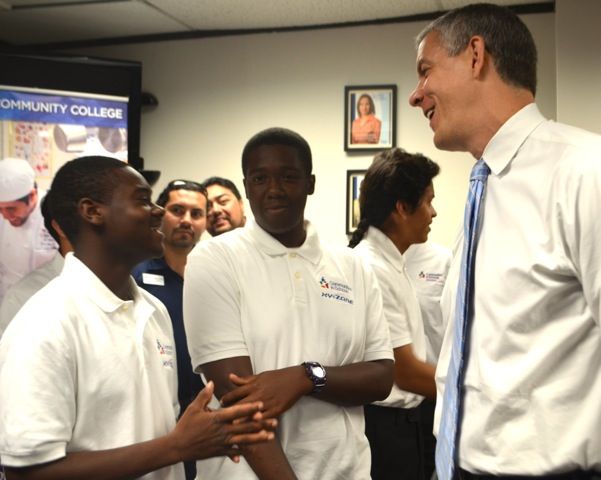 They say the best public policy is well-informed by the people closest to its impact.  On Friday, June 20, several young male participants of the Communities In Schools of Central Texas XY Zone program had the opportunity to share their voice and their wisdom with Secretary of Education Arne Duncan.  At a roundtable discussion in Austin, Texas, the Secretary explained to the 10 young men that our nation must address the particular needs of young men of color, who are, by many measures, taking wrong turns in life and not reaching their potential.  Secretary Duncan shared that President Obama's My Brother's Keeper initiative seeks to rally our nation to do a better job with our young men, guiding and supporting them to success as adults.
All of the young men were straightforward in sharing their direct knowledge of the challenges they and their peers face to staying in school. They also gave their advice to the Secretary about what can be done to effectively support young men through those challenges.  During the discussion, one student talked about the opportunity gaps that students from low-income communities face relative to starting a career. He said that his neighbors could "hook him up" with a fast-food job but not with internships or entry-level business positions. Several students talked about the challenges parents earning low incomes face that impact their ability to parent, including repeating negative cycles that they themselves experienced and exhaustion after working multiple jobs paying minimum wage.   "We have to help parents to help children," said one CIS of Central Texas student. Referring to the precious little time that counselors and teachers have to devote to knowing their students, another student told Secretary Duncan, "When you don't understand a problem, you can't solve the problem." He went on to explain how the staff at Communities In Schools takes time to understand, deeply care about and support students effectively.
The CIS of Central Texas' XY-Zone leadership development and peer support program provides many of the very supports the students had been suggesting – relationships with caring and supportive adults, opportunities to get out into the community, college and career exploration and service learning activities.
At the conclusion of the roundtable discussion, Secretary Duncan praised the students and shared these words of encouragement: "So much of success is grit, resilience. The trials and tests didn't break you, but made you stronger." The Secretary could clearly see that the young men of the XY Zone have developed the grit, resilience and strength to realize their potential.
Media representatives were invited to attend the roundtable event and local Austin TV station KEYE ran a story on the 6 p.m. news and then posted the story on their website.