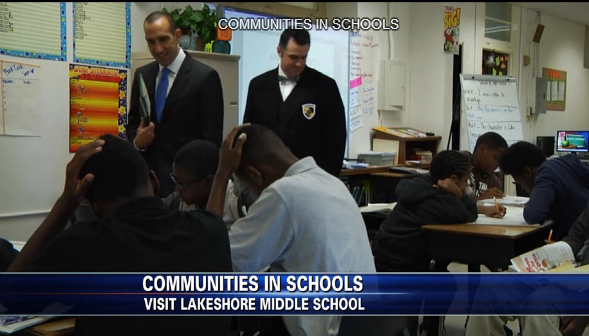 Politicians and partners in the community can be champions for kids and help change the picture of education in America. That's the focus of this week's "What We're Reading"
"The midterm elections are over and even though we know who won at the polls, it's hard to say whether anyone actually will win, in the fullest sense of the word – especially voters interested in education." So says Communities In Schools President Dan Cardinali in this compelling commentary written on the eve of the elections this week for the Get Schooled blog in the Atlanta Journal Constitution. It's a great read and not just for political watchers, but for anyone who wants our elected leaders to ensure that public education offers equal opportunities to all our children.
Dan got a close up look at what one community is already doing to change the picture of education for students.  A camera crew in Shreveport, Louisiana followed along as Dan toured Lakeshore Middle School where CIS and Volunteers of America are hoping to expand a CIS program that serves students facing academic and non-academic barriers to success. You can follow the tour online here at KMSS-TV.
The Topeka Capital-Journal offers up this letter from a local resident who is personally advocating for an expansion of CIS in that community.  Mentor Jeremey Beard has witnessed the positive effects that CIS site coordinators can have on kids and joins a chorus of community members in Topeka who are publicly encouraging more investment in the proven CIS model.
U.S. News and World Report looks at how after-school programs that offer services like mentoring can have an effect on preventing dropouts. National Network Executive Vice President Gary Chapman offers his insight for the story, noting that "after-school programs allow students to build the personal relationships they need."
Robin Hendrick, a volunteer coordinator of CIS of Rowan County in North Carolina also discusses the power of personal relationships for kids in need.  The Salisbury Post published her appeal for more volunteers to "give their time and talents to tutor and mentor students, help them succeed in school… or just be a friend."
Lakisha Josey, with CIS of Jacksonville champions the role of community partners in helping kids succeed. She appeared here on WJXT-TV along with a representative of the 121 Financial Credit Union to discuss financial literacy training to students in the community.
Finally, some of the best champions of the CIS model are those who have felt the power of it in their own lives. Glendale Mejia related how she was helped by CIS of the Bay Area  as a student at McWhirter Elementary in Webster. Now, a teacher herself with at McWhirter, she was part of the 25th anniversary celebration that was chronicled here in the Bay Area Citizen. Watch this great video marking the affiliate's anniversary on their website.
That's what we're reading this week. What are you reading this week? Let us know in the comments below.