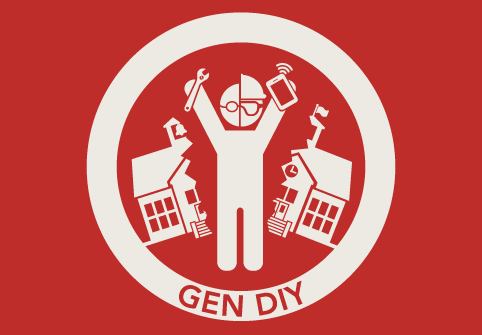 Communities In Schools is collaborating with Getting Smart  on their new blog project, Generation Do-It-Yourself ("GenDIY"), which will tell the stories of young people taking control and charting a course to careers they love.
The #GenDIY blog series on The Huffington Post and GettingSmart.com  aims to highlight examples of how America's youth is fighting unemployment and the rising costs of education by paving personal pathways through K-12 and postsecondary to find and create jobs.
The inaugural blog offers up examples of the five broad categories for a short blog (400-800 words) and/or a Google Hangout:  
Welcome to GenDIY: Let's face it, it's different being young today. We're looking at the good, bad and ugly realities of being a Millennial learner.
Charting Your Own Course: At some point you decide it's up to you, but how do you decide what to do?
Rethinking College: Because it's not "one-size-fits-all-at-18, two or four years then you're done" anymore.
Learning on the Job: That thing about having seven careers in a lifetime? Here's how GenDIYers thrive on it.
GenDIY Imperatives: Tools, skills, and advice for (and from) GenDIY.
If your contribution is selected, we'll post an edited version on Getting Smart, submit it to The Huffington Post, and incorporate it into an interactive eBook in the form of a quote, feature, or video.
See a topic you are an expert or have experience in?  
Email Tyler at editor@gettingsmart.com with your contribution and questions. He is the GenDIY project manager and editor.
Timeline: we would appreciate receiving your blog or joining us on a Google Hangout before February 1. (Let us know that a longer timeframe would be useful).
Images/video: if there is an image or video, or two, that you'd like to include in your blog, please send them along.