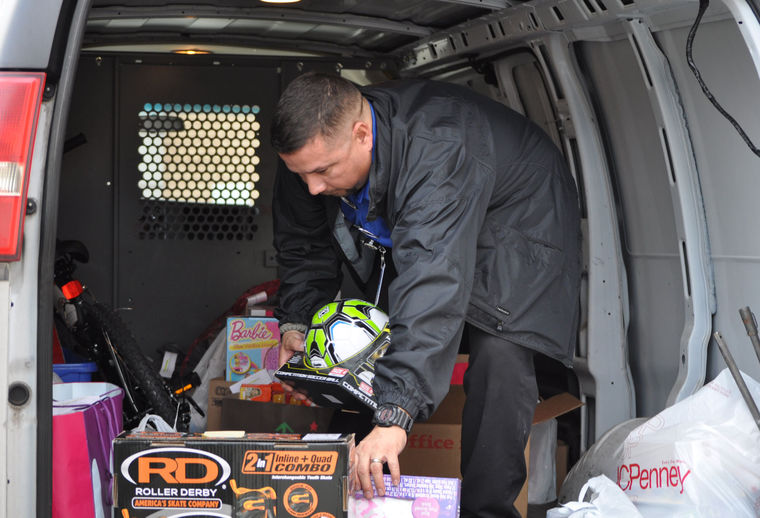 The reason for the season is the theme of this week's What We're Reading
Teresa Lewis of Communities In Schools Metropolitan Detroit understands it's an opportunity to make dreams come true for some students - students like  Jesus Lewis, a student at Detroit Public Schools Jerry L. White Special Education Center. "We said, what would you do with $100. He said 'Buy a bike," said Lewis.
But because of physical and cognitive impairment, Jesus needed a very special and very costly bike - $1,300, reported Fox TV.  Lewis knew it would take a team to make this wish come true, so she reached out to the community. As a result, Christmas came about a week early for Lewis when he received a gift he'd only dreamed of.
Even the smallest gift can make a big difference in the lives of students whose families struggle with homelessness. Communities In Schools of Greater Central Texas recently worked with a local hospital to hold a gift drive to solicit donations of toys, games, blankets, coats and hygiene items.  
As Stacey Bradley, CIS coordinator for Copperas Cove Junior High School, tells the Killeen Daily Herald, "It really does help this time of year to be able to provide gifts to some of our students who have had a pretty rough year outside of school walls," she said. "These kids are very resilient and we try to show them that people do care about them."
Communities In Schools of Brunswick County is hoping holiday shoppers will show kids that they care by buying at local thrift shops this season.  The CIS affiliate operates thrift shops in Southport, Boiling Spring Lakes and Sunset Beach. Every dollar made in these stores is invested into Brunswick County Schools, where CIS provides mentorship programs, scholarships and more. In a video story posted by Time Warner Cable,  Anne Benedict, lead manager at the CIS thrift shop in Southport explains "Knowing that it is for a good cause and it's helping children, just makes it worthwhile."
Students in Philadelphia have received an early holiday surprise, reports Philly.com.  U.S. Secretary of Labor Thomas Perez recently visited the Philadelphia School District to announce the U.S. would offer $100 million in grants for apprentice programs.  Philadelphia's Urban Technology project is an apprenticeship program run by the nonprofit Communities In Schools of Philadelphia in partnership with the school district.
An anonymous Charleston couple have challenged others in the community to give this season. They've offered the Communities In Schools of Charleston $100,000 out of their own pockets. But there's a catch. The couple has asked the community to give another $100,000 in individual contributions to match their donation.  The Post and Courier explains how this local affiliate has already helped some many and why this season is an opportunity for the Charleston community to return the favor. 
Finally a tip on what you should be reading this weekend.  Communities In Schools will be featured in Parade Magazine's special holiday insert this Sunday which asks readers to make the season of giving last all year long for worthwhile nonprofits.   
Terin Valentine, a recent graduate from a school served by Communities In Schools of the Nation's Capital is pictured in the insert.  He was also featured in a new video this year – Whatever It Takes.  As you can see from the video, it shows why we work all year long to give students the greatest gift of all – success in school and opportunity in life.