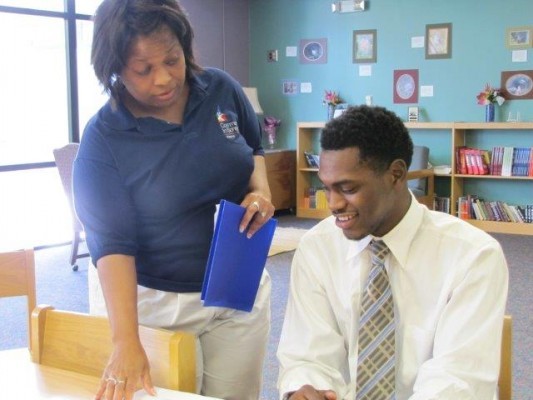 So many CIS students who benefit from our support go on succeed in school and achieve in life. They and their success stories are the focus of this week's What We're Reading.
Robert Mawhorter was close to dropping out of school after moving from Tempe, Arizona to his new home in Shelby, North Carolina. As the Shelby Star reports, Robert found it difficult to adjust to his new surroundings and his new school. With the help of  Communities In Schools of Cleveland County and a graduation coach,  Robert is now an honors student earning As and Bs on the wrestling team. He also enrolled in the campus residential program his sophomore year at the N.C. School of Math and Science.
Dealing with the death of both parents, Tyrelle Smith couldn't take his academics seriously at Carver High School. He had more than 40 absences because he truly believed he didn't need an education to graduate.  Smith's grandmother, Sharon Chainey, never gave up on him and continued pushing him to do better. Neither did Communities In Schools of Atlanta. Thanks to their support, in mid-September, Smith enrolled in classes at Arkansas Baptist College with plans to pursue a degree in psychology. He even landed a job in the college's admissions office. As Smith says in this article on the CIS of Atlanta site, "I never thought I had the option of going to college because I failed so many classes in my 11th and 12th grade year, but I did it. I thank my grandparents, Principal Dr. Evelyn Mobley, Mrs. Wilson and Communities In Schools for helping me with my second chance."  
Marietta High School student Farkell Hopkins is not a typical 17-year-old. When he was 13 years old, he rode a bus from Queens, New York, to Georgia by himself to stay with his mother and finish high school. Shortly after his arrival, his mother became ill. According to the Marietta Daily Journal, as a result, Farkell became the person in charge of grocery shopping, cooking, cleaning, paying bills and the upkeep of the house. He also took a job at McDonald's to help support his mother and himself.  Communities In Schools Marietta/Cobb County referred him to the MHS Performance Learning Center so Hopkins had the opportunity to learn at his own pace in order to find a balance between his schoolwork and his home life. Now a senior poised for graduation, Hopkins wants to continue his education and pursue a degree in business. 
On her 17th birthday, Katelyn "Kat" Franzen gave herself a birthday gift, of sorts — her freedom, says the San Antonio Express. It also was a decision that would ultimately put her on stage at Carnegie Hall as a member of Glamour Magazine's Women Of The Year celebration of "The Bravest Girls in the World."
Franzen, chose her 17th birthday as the day she would flee the turmoil and drama of a home life she said was not conducive to learning. Struggles at home — including her parents divorce and financial hardships after the break-up — all too often interfered with her ability to "do what I had to do," especially in school, she explained.  Franzen's journey to freedom began in the office of Amanda Tribble, the site coordinator for Communities In Schools of South Central Texas.  But it didn't end on the stage at Carnegie Hall.  The now 18-year old has big plans for the future. She's on track to graduate and hopes to study to become a veterinarian.  Franzen says she is proud to join other kids who have overcome incredible obstacles to succeed. "I know that I am not alone, that other people go through the same things I have gone through, or similar situations," she said. "If they can still try to follow their dreams and do what they want to, then so can I."
How do these stories inspire you? Let us know in the comments below...