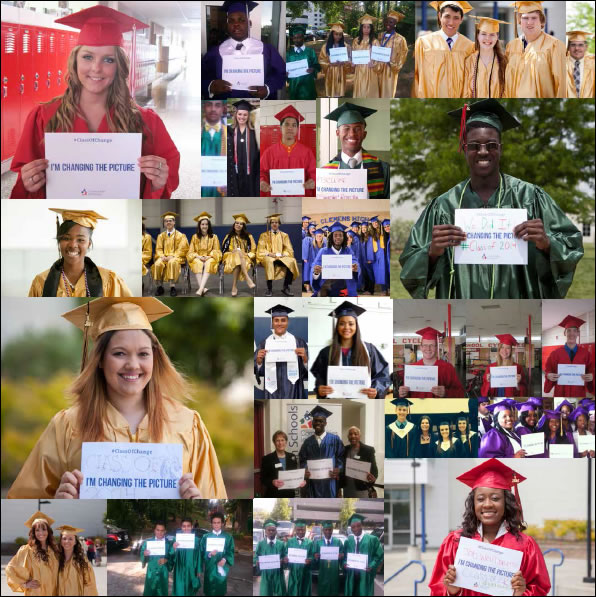 In ways, big and small, Communities In Schools changed the picture of education in 2014. The most visible proof of our work came in the form of a new branding campaign that featured the stories of our students who, with our help, overcame significant obstacles to stay in school and succeed in life. Students like Ellie and Jamal proved that some kids just need a caring adult in their lives, while students like Tres'Rionna and Cheyenne showed that a trip to the eye doctor or dentist can mean the difference between staying in school or dropping out.
All across America, from Tacoma to Times Square, we used every imaginable method to share these inspiring stories. On TV and in taxis, in malls and magazines, on radio, online and on roadside billboards – everywhere you looked, our students' smiling faces helped us spread the word that CIS is the largest and most effective dropout prevention organization in the country today.
Here in Washington, DC, the national office worked hard to secure media placements for our Change the Picture campaign, but local media also recognized the news value of the CIS story, helping to amplify our message in ways we never could have anticipated. Among the young people who acted as media ambassadors this year were:
· Robert Mawhorter of North Carolina, who was close to dropping out, but who learned to focus on school after being mentored by CIS.
· Farkell Hopkins of Georgia, who was overwhelmed by cooking, cleaning, paying bills and holding down a job to support his sick mother until he received support from a site coordinator.  
· Whitney Cole of Nevada, who had been kicked out of school and had fallen in with a crowd of drug dealers until site coordinator Ashley Burney stepped into her life.
· Katelyn Franzen of Texas, whose journey from a life of chaos to independence with the help of CIS earned her recognition from Glamour Magazine as one of the Bravest Girls in the World.
· Raven Saunders of South Carolina, who with the help of CIS, went from struggling student to scholar athlete and became the Gatorade Girls Track and Field Athlete of the Year.    
· Miguel Lujan of New Mexico who lives apart from his parents and relies on the support of his site coordinator to ensure he has what he needs to succeed in school.
When it comes to telling stories, sometimes a picture really is worth a thousand words. During the World's Biggest Graduation Celebration, we encouraged all of our students to post their graduation selfies as part an interactive digital event that connected real-time social media interactions between millions of students across the nation. The flood of photos rippled across social media, allowing the entire world to share the stories of kids who were part of the Class of Change. The resulting mosaic ended up in the pages of the New York Times.
In 2014, even the White House took notice of our students and their inspiring stories – not once, but twice. CIS students were invited to join President Obama for the launch of the My Brother's Keeper Initiative and to highlight the successful efforts of CIS to empower young men of color by keeping them in school and out of the criminal justice system. Later in the year, a number of other CIS students visited the White House for an event with Vice President Biden to highlight efforts to improve outcomes for children in foster care.
It's not only our students who have the power to inspire. Once again, our Unsung Heroes Awards gave us the opportunity to honor local affiliates, schools and site coordinators who have made an extraordinary difference in providing students with the resources they need to succeed in school and in life. Among this past year's honorees was site coordinator Leah Livingston who revamped her school's mentoring program and started her own music program for students, proving that our site coordinators will do whatever it takes to help kids.   
Beyond the individual success stories from CIS students and site coordinators, the media also gave increased attention to our broader policy message this year. The New York Times, the Wall Street Journal, US News and World Report, MSNBC, National Journal and NBC News all ran stories making the point that when you surround children with a community of support you can get kids to class,  give them the tools they need, help them achieve, protect them from harsh discipline policies, help them after school, ensure they have a safe place to stay and  improve their communities.  
In editorials and interviews, CIS leaders reinforced those messages time and again throughout the year. CIS President Dan Cardinali not only spoke out on the opinion pages of The New York Times and on MSNBC, but also made a compelling case about what we can do as a country to bridge the achievement gap on Bloomberg Radio and WNYC, through thoughtful posts on Huffington Post and in prestigious books like Moneyball for Government - while CIS Board Chair Elaine Wynn took her message about why investing in education pays benefits for our country to print, national TV, and online audiences as well as the cover of Forbes magazine.
Finally, our community of supporters have made their voices heard. On Facebook, Twitter, Google+, Instagram, Pinterest, LinkedIn and here on our blog, you have shared stories, photos and posts letting us know that you too are willing to join us in doing whatever it takes to change the picture of education. We look forward to a healthy, happy and hope filled 2015.