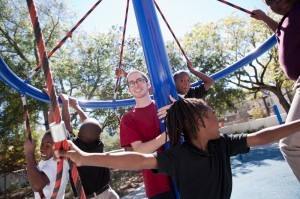 Later this month as the nation honors Dr. Martin Luther King, Jr., many people will honor the occasion with a day of service. But Communities In Schools students, staff and volunteers are committed to serving their communities year round. Those ongoing service efforts are part of what we're reading this week.  
In Charlotte, students and teachers are bringing life back to a dormant greenhouse. According to the Charlotte Observer, Communities In Schools of Charlotte sees the project as more than just an exercise in gardening, it will also allow students to use skills in science, business and project management to build a lasting and living gift to their school community.
College of Charleston Honors College student Clay Dustin is being of service to his community by putting the fun back in playground recess.
Dustin, a double major in mathematics and data science, created Project Playground to promote physical activity among school children during recess and to give teachers a much-deserved break. Project Playground, in partnership with Communities In Schools of Charleston, puts volunteers in every recess period at a downtown Charleston elementary school to encourage kids to play in loosely structured activities. Although Dustin has turned over leadership of his group to others, he continues to volunteer with the program as a way of continuing to give back to his community. You can read more about him in this story published on the website of the college of Charleston.
Finally, a unique event in Atlanta highlights how communities give back to CIS in many ways. A local Atlanta barbershop partnered with Communities In Schools of Atlanta to provide students with free haircuts and grooming services.  Recognizing that some kids may not have access, funds or the opportunity to take advantage of personal grooming services, local barbers decided to give their time and talents to help kids boost self-esteem and self-confidence.  Photos from the event are featured on the CIS of Atlanta website.
No matter how big or small the effort, service is a powerful way for individuals and groups to bridge barriers and build community.