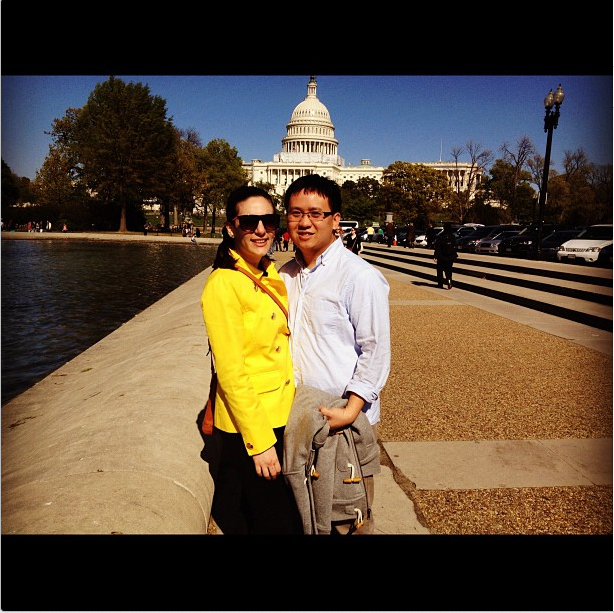 20 Questions in 60 Seconds is our new blog series in which we interview Communities In Schools staff members. This week's guest is Michael Huang, Director of Network Quality and Accountability at the Communities In Schools National Office.
1. What three traits define you? 
Determined, Analytical, Awkward
2. What's one thing you couldn't live without? 
Diet Pepsi
3. What are you listening to/reading these days? 
I love podcasts – The B.S. Report, Freakanomics, This American Life, Serial, and Planet Money are my favorites.
4. What is the one thing you cannot resist? (food/dessert/candy/etc.) 
Mint Chocolate Chip Ice Cream – it's currently 10 degrees in DC but I still want my ice cream
5. What is your greatest fear? 
Missing out
6. Where is your favorite place to be? 
With my wife
7. What's the weirdest job you've ever had? 
I once washed gourds for a museum in Pasadena, CA
8. Who is your biggest inspiration? 
My parents 
9. What does true leadership mean to you? 
A Servant Leader with a healthy dose of sarcasm
10. What's the coolest (or most important) trend you see today? 
Data-Driven Social Change – It's not enough to say you're doing good; you have to demonstrate outcomes to survive.  That and country/hip hop mashups.
11. Which one would you want most – flying cars, robot housekeepers, or moon cities? 
Moon Cities! -- Communities In Schools of the Dark Side of the Moon
12. What has been the most important innovation you have witnessed in your lifetime? 
Collapsible Tupperware
13. What would you do (for a career) if you weren't doing this? 
Before deciding on graduate school, I had an opportunity to go work for an O-ring manufacturing company.  I assume, in a weird alternate universe, I am a foreman manufacturing O-rings.
14. You're hosting a dinner party. Who are the 3 people, living or dead, who you would invite and why? 
President Obama, Dan Cardinali and Bill Miliken…might as well make this a productive hypothetical dinner party
15. What would you serve? 
Something fried…so Dan [Cardinali] has to put in an extra workout
16. Do you have any pets? What kind? 
Not yet but I relate to corgis a lot because they have little legs
17. If you could do another job for just one day, what would it be? 
Quality assurance for vacation resorts
18. What are your three most overused words/phrases? 
TQS, Standards, Best Practices
19. How do you define success? 
With metrics
20. What is the best book you have ever read? 
The Phantom Tollbooth
Have more questions for Michael? Add them to the comments below and he'll answer them!