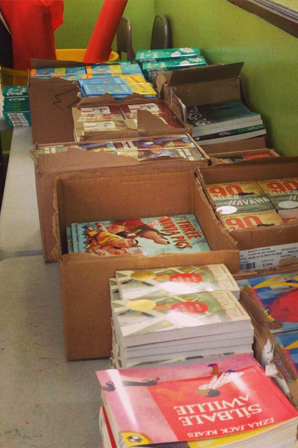 This week we're reading several inspiring stories of how we are helping students across the country.
Communities In Schools of Charlotte-Mecklenburg is teaming up with local business to encourage students to stay in class during school hours. The district says students at West Charlotte High School miss a little more than 13 days from school each year - an increase from the year before. CIS Communities In Schools' George Metz, Jr., plans to train about 20 businesses owners on what to do and say the next time a truant student shows up on their property. WBTV reports Derrick Johnson, the owner of One Way Wings believes in this new initiative and says he see students skipping school all the time in front of his carry out restaurant, located near West Charlotte High School. "I am not going to feed them," Johnson said. "Or take their money, because again that's buying into they want to do," said Derrick. Instead, as part of the initiative, businesses will get a sign to post in their window to let students know they are being watched. Read more
In Wilmington, NC, New Hanover High School is working to leave a positive mark on the students through a new club called "Legacy". Brian Blake, site coordinator for the Communities In Schools of Cape Fear, said the goal of the Legacy program is to help students become positive role models for the community as they transition into the next stage of life. "This is our way of trying to take control and let the young folks of New Hanover show the community that we're not all bad," said Blake. WECT reports the club also has a sister organization called the Elegance program for female students. Both groups meet regularly and also engage in service projects around the school. Read more
Another initiative taking aim at dropout prevention comes from Communities In Schools of Lehigh Valley (CISLV). The initiative named "Graduate Allentown" will provide strategies for staff to work one-on-one with at-risk students, and to connect students and, if needed, their families, to appropriate resources. In the article, Timothy Mulligan, president and CEO of CISLV said "a lot of times, these students need all kinds of support, academic and non-academic. Sometimes, there's a home situation that we can be of help. It might be housing, it might be an employment issue, it might be just a student who doesn't have the kind of stability." Just last year, CIS implemented a similar program at Easton Area High School, where all 22 at-risk seniors they worked with graduated. Click here to read the full story.