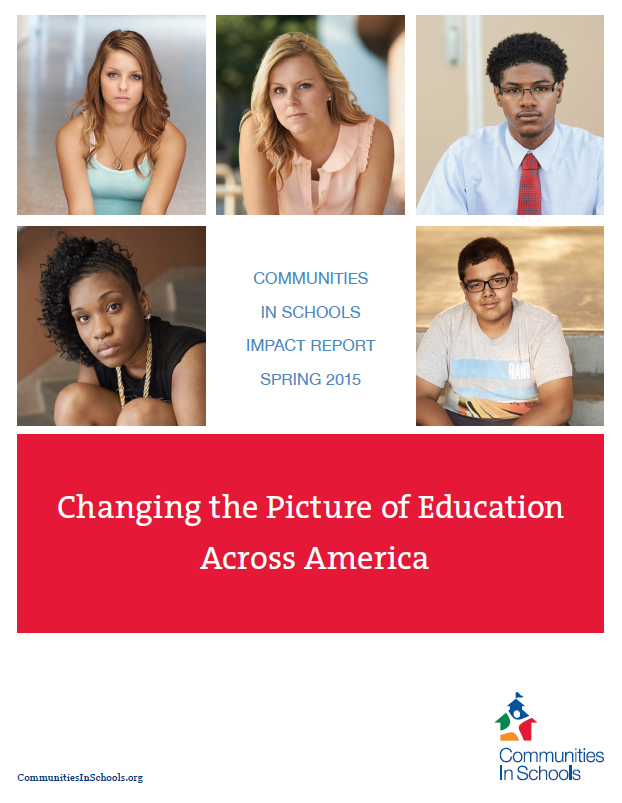 Communities In Schools (CIS) has released its 2015 National Impact Report demonstrating its effectiveness in helping nearly 1.5 million students in almost 2,400 schools break the cycle of poverty and reduce their risk of dropping out.
According to Communities In Schools President Dan Cardinali the need for CIS to intervene in the lives of students is growing because... "the headwinds of poverty are blowing stronger than ever, holding more and more young people back from achieving in school and moving into a fully self-sufficient life."
The report comes just months after the Southern Education Foundation released another groundbreaking report that showed that low-income students now make up the majority of students in public schools.
Working in 26 states and the District of Columbia,  Communities In Schools site coordinators identify students like these who are danger of dropping out. They assess what they need and then provide wraparound services that might include food, clothing, transportation, housing, medical
and dental care, mental health services, tutoring, mentoring and much more.
The CIS National Impact Report measures the outcomes for student who received this type of case management  in  2013-2014.
As a result of their involvement with Communities In Schools:
■ 99% stayed in school
■ 93% were promoted to the next grade
■ 91% graduated
■ 83% reached their academic goals
The majority of CIS case-managed students in 2013-14 (the latest year for which statistics are available) were Hispanic or Latino (44%), followed by African-American (34%) and White (17%), and nearly all (93%) were eligible for free or reduced-priced lunch. 
This report also profiles an example of a CIS site coordinator and student whose stories demonstrate the organization's proven success for addressing both the academic and nonacademic needs of students. Dr. Demona Warren is a site coordinator for Communities In Schools of Atlanta. Warren was among those recently honored as a Communities In Schools Unsung Hero for exemplary work in helping students succeed in school and achieve in life. Read more about her inspiring work and watch a video tribute by clicking here.
CIS alum Jamal Tate is also profiled in the Impact Report. Working closely with site coordinators at CIS of Charlotte-Mecklenburg, Jamal graduated on time from high school, despite having been jailed three times before the age of 16. Jamal went on to college where he founded the first college-based alumni group for Communities In Schools. He will graduate this May.  Jamal's journey is chronicled in this story and video.
Communities In Schools is expanding across the country to meet the needs of millions of more students like Jamal reach their full potential.
The National Impact Report outlines the projected expansion that is taking place in the current school year. 
In the 2014-2015 school year, CIS is serving at least:
28 new communities
31 new school districts
137 new schools
80,000 more students
To  learn more about the effectiveness of CIS,  visit our website and download the 2015 National Impact Report.