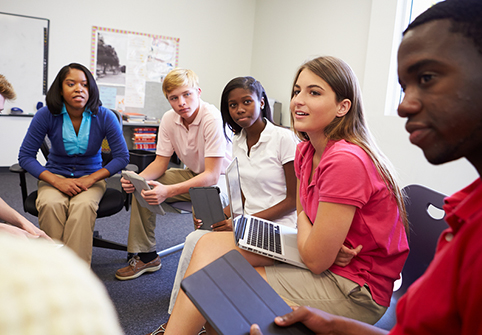 The path that our students take from school to college or a career is often one marked by unexpected barriers.  But Communities In Schools is there to help them along the way. Those journeys are the focus of what we're reading this week.
In Lehigh Valley, CIS site coordinator Shelly Grim talks about her breakthrough with one student overwhelmed by families issues that affected her school performance. Trust was a major issue for Rachel, a ninth grader who was unable to believe in herself and believe that she could become somebody, according to Grim.
As Morning Call reports, Grim took the time to talk to her and find out what really was troubling her. Rachel's grades improved, but the real change was in her once-defeated attitude. By her senior year, she was making goals for herself. They included not just graduation, but college and she achieved both. Rachel's story is one of many positive examples of Communities In Schools' work in 19 Lehigh Valley schools, now serving 12,000 students.
"Our mission is to surround kids with a community of support and empower them," said Tim Mulligan, president/CEO of Communities In Schools of the Lehigh Valley.  Mulligan says one of the things that makes them popular with the school districts is the way they work cooperatively with the schools and a variety of agencies, businesses and funding sources. Read more.
Recently, students served by Communities In Schools of Washington made a trip to their State Capitol to tell members of the state legislature about their paths to success.  Those students joined CIS – Peninsula staff, board members, volunteers and parents in explaining to lawmakers about the positive impact CIS has on students across Washington state.  Read more.
2015 Unsung Hero Award winner, Michael Romero, shared the story of how he uses music to help students stay on the right path. Romero and Suki Steinhauser, CEO of CIS of Central Texas were recently the subjects of this KVUE.com interview.
Finally, Communities In Schools President and CEO Dan Cardinali, makes the point that CIS partners with students in charting their journeys. In a new Huffington Post blog, "Hacking Your Traditional High School Experience," Cardinali talks about how students can get the most of their high school experience by exploring non-traditional paths of opportunities that closely align with their passion. He explains, "internships, mentorships, clubs, independent study – if you really want to DIY, there are hundreds of ways to pursue your passions while getting a broad-based education and building your non-cognitive skills at the same time." Continue reading to see more examples in the full article.