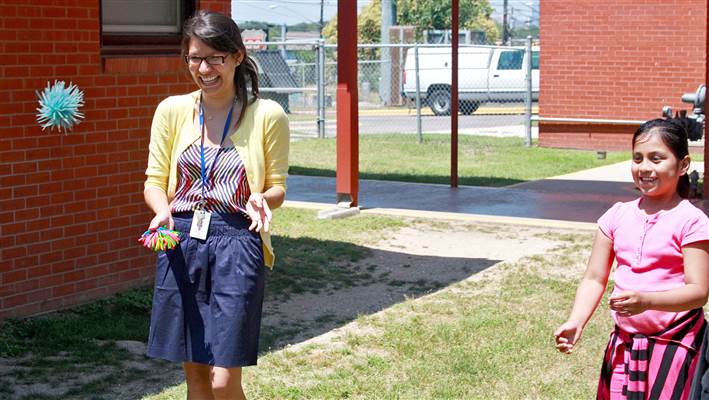 As we approach the end of the school year, Communities In Schools (CIS) leaders and site coordinators are speaking out about the obstacles students face in schools and ways in which our organization is helping them overcome those barriers. That's the focus of this week's What We're Reading.  
Latina site coordinators with Communities In Schools of Miami, Communities In Schools of Cameron County and Communities In Schools of Los Angeles recently spoke to NBCNews.com about their work with students across the country.
Whether it's providing school uniforms, glasses, tutoring, or even rehabbing a condemned trailer and creating a livable home, these site coordinators meet the needs of students so they can focus on learning.
In the article, Dan Cardinali notes that the coordinators all bring a specific skill set to the job – the ability to create relationships with students.
"It's not enough to love a kid," he says. "You have to be able to work with kids, to communicate with them, and help them remove their obstacles."  You can read their stories here.
Site coordinator Hannah Hughes recently shared the story of her life-changing work with one student, Katelyn Stepp.  Wrongly accused of drug abuse, Stepp was saved by an intervention by Hughes and CIS of Tarrant County. She's  now on track to graduate and attend college. You can read more about her story in the Fort Worth Business Press.
In New Orleans, Communities In Schools Executive Director Sara Massey recently spoke with NPR about efforts to help young people who might fall through the cracks in that community.  
"These are the kids who are chronically truant, run away, get expelled, drop out, run afoul of the law. Some get pregnant. Others face mental health issues, learning disabilities, homelessness, trauma or abuse," says NPR Reporter Anya Kamenetz.
You can listen to Massey's answer to the question of what needs to be done to keep the lives of kids in the community from going adrift here.
In Northern Louisiana, Communities In Schools is also working to keep kids on the right track in a new partnership with Volunteers of America. Site coordinator Arlene Huling discusses the important work in that community in this video story by KTBS TV.
Finally, a powerful story of a student and a site coordinator at CIS of Charlotte-Mecklenburg is featured in the Charlotte Observer. Without the presence of his father and following the unexpected death of his mother, Zack Morla relied on the support of his baseball coach and site coordinator, Rodney Carr. Together they have become a team on and off their field and positioned Zack to graduate and compete for a possible college baseball scholarship.
Zack credits his success to his relationship with Carr who gives him faith in his ability to overcome any obstacle.
In his words, "… Work hard, and everything is going to fall in place."