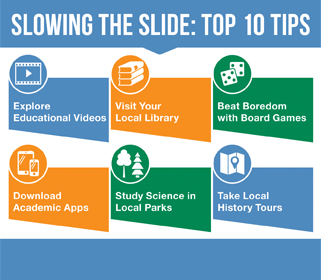 Communities In Schools (CIS) is working to help parents keep their children engaged in learning this summer. Recently, CIS participated in a twitter chat with NBC's Education Nation and its Parent Toolkit initiative. This "ToolkitTalk" provided parents with ideas for slowing or preventing the summer slide - the loss of academic skills over the summer break caused when kids aren't regularly involved in learning experiences.
You can read highlights of the conversation on twitter here.
CIS has also released this infographic of the top 10 tips for slowing the slide.  They include:
Create a Reading Challenge - Explore local reading challenges in your community or set a family reading goal for the summer. Create a progress chart and reward your kids for reading.
Explore Educational Videos­ – Documentaries, educational videos and movies with historical themes can all be used to spark summer learning.
Visit Your Local Library­­ ­­– Dust off those library cards and put them to good use at your local library. For something different, take a trip to a library at your local university/community college.
Beat Boredom with Board Games­­­­­- The old family favorites and popular new games are a great way to help kids beat boredom and use their critical thinking skills.
Find Fun Ways to Use Math ­– From measuring in the kitchen to counting change in the grocery store to home improvement projects, math is everywhere. Help your kids find the fun by showing them the usefulness of math.
Enroll in Educational Programs­ – Summer school isn't just for struggling students. Look into special summer camps, academic programs or skill-building workshops to help your kids stay engaged in learning. 
Download Academic Apps – Yes, there's an app for that. Download some educational apps that will allow kids to learn anywhere and at any time.
Study Science in Local Parks – ­Take the family on a nature walk or visit local parks to spark learning about the environment, plants, animals and insects.
Take Local History Tours – Make museums, historical sites and local history tours a part of your summer routine.
Structure Summer Learning Time – Leave plenty of time for fun and relaxation  but build in time for structured learning activities throughout the summer.