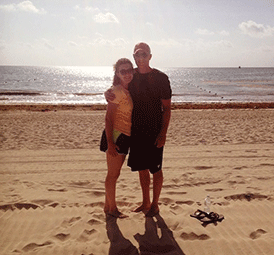 20 Questions in 60 Seconds is our new blog series in which we interview Communities In Schools staff members. In the spirit of graduation season, this week's guest is Erica Vevurka, Communications Integration Manager at the Communities In Schools National office and recent master's degree recipient from The George Washington University in public administration.
1. What three traits define you?
Outgoing, empathetic, loyal
2. What is your personal philosophy?
Be kind to others – especially when it's hard to be.
3. Ten years ago, who did you think you would be now?
Ten years ago, I was a freshman in college, majoring in journalism/public relations and thinking I would work at a public relations agency.
4. What's one thing you couldn't live without?
Chocolate.
5. What are you listening to/reading these days?
I am hooked on podcasts, and I can't wait for season two of Serial.
6. What is the one thing you cannot resist? (food/dessert/candy/etc.)
Anything chocolate, but especially brownies – doesn't matter if they came from a box or a bakery.
7. Where is your favorite place to be?
On the beach – any beach!
8. Where is the best place you've traveled to and why? 
I went to Italy with my mom, and we visited a tiny town called Prezza where my grandma was born. Everyone we met were extremely distant relatives but acted like our arrival was the best homecoming they could ask for.
9. What's the weirdest job you've ever had?
I was a fry cook at a snack shack on a golf course.
10. Who is your biggest inspiration?
My mom – she is the kindest and most patient person I know.
11. What does true leadership mean to you?
It's a combination of providing inspiration, professional support and trust in the leader's decision-making and direction.
12. What's the coolest (or most important) trend you see today?
Social media and its impact on current events – you can see history happening from multiple perspectives, instantly. 
13. Which one would you want most – flying cars, robot housekeepers, or moon cities?
Robot housekeepers – I'd give anything not to dust.
14. What would you do (for a career) if you weren't doing this?
I always wanted to be a children's book author
15. Do you have any pets? What kind?
My husband and I are in the process of adopting a lab, so someday soon my answer to this question will be yes!
16. If you could do another job for just one day, what would it be?
Does being Taylor Swift for a day count as a job? Because that's what I would be.
17. What advice do you have for kids who are struggling in school?
You'll be surprised by some of the people in your life who want nothing more than for you to succeed. Let them help you.
18. What would you most like to tell yourself at age 13?
Be yourself and own it.
19. What is the best book you have ever read?
This is a tough question – I'm constantly reading and easily fall in love with books. The best book I have read so far in 2015 –Unbroken by Laura Hillenbrand.
20. What is your favorite thing about working at Communities In Schools?
Hearing the incredible stories of the site coordinators and students in our network.
Have more questions for Erica? Add them to the comments below and she'll answer them!