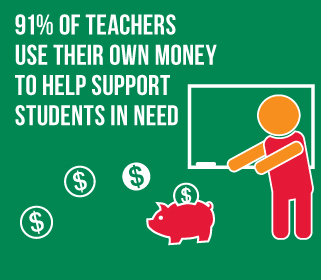 A new national survey of American teachers by Communities In Schools and Public Opinion Strategies is the focus of what we're reading this week.  
The poll is among the largest and most in-depth examination of issues facing teachers, from the teacher viewpoint. The key findings demonstrate that poverty and the manifestations of poverty are a critical impediment to education.
Robert Blizzard, a partner at Public Opinion Strategies tells Education Week "As we have found with most polls of teachers, they expressed concern about too much testing, student apathy and lack of parental engagement as general problems in schools today. But what was striking is that when asked to identify and rank serious problems in their local schools, poverty became a major theme."
88% percent of teachers said poverty is a barrier to learning.
The Washington Post reports that while 9 out of every 10 teachers said they have spent their own money on school supplies, significant numbers say they also have given help to poor students: 51 percent said they have spent their own money to feed students, 49 percent report helping students get new shoes or clothes and 29 percent have helped them get medical care.
America's teachers also say they spend fully 20 percent of their time during school hours assisting students with problems they face outside the classroom, reports the Daily Caller.
"Twenty percent is the equivalent of one day a week or four days a month, or, extrapolated out, roughly two and a half to three years out of a child's 12-year career," Communities In Schools Vice President of Legislative Relations Dan Fuller said. "This is time that teachers are addressing the needs of a few students at the expense of an entire classroom. Clearly poverty is an issue that impacts all students."
To download the poll, read an analysis of the results or share an infographic, click here.