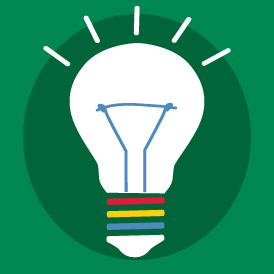 Each month in Borrowed Brains, we interview a leading expert in education, youth development or social justice.
Today's expert is Jamie Farnsworth from NBCUniversal News Group. As the Manager of Operations for both NBC Learn and the Parent Toolkit, Jamie is spearheading a social media campaign known as School Year's Resolutions, where parents, grandparents and other caring adults can share a specific commitment for improving a child's life this year. Read on to get Jamie's take on good intentions, good ideas and setting a good example …
Q. According to your recent "State of Parenting" poll, half of all parents want to be more involved in their child's education, and a lack of time is the most common culprit. Short of legislation creating a 25-hour day, is there anything we can do to mitigate that problem?
A. You bring up a great point around parents' lack of time. That is a challenge we're trying to help mitigate through the Parent Toolkit website and app, which is produced by NBC News and sponsored by Pearson. We've created a robust resource that also has bite-size information for when parents only have a couple minutes to spare. For example, with our mobile app, parents can mark tips and other items as "priorities" to help them streamline what they want to work on with their kids. Additionally, our latest original videos are all about a minute or less, with actionable and simple ideas for supporting a child's education and overall development.
Q. If the time crunch were no issue, what do you see as the No. 1 thing that parents – or other adults – could be doing better or more effectively?
A. I've been working on the Parent Toolkit since its inception, and I think the biggest takeaway we've found through research and talking with our experts is that children are like sponges. They pick up on what say, do, and how they act. If you choose not to lose your temper in traffic, or to add more vegetables to your dinner plate, or to read a book or the newspaper, your kids are going to pick up on that.  
Q. Your back-to-school campaign has been live for about a week now. What's the most surprising thing that you're seeing in the responses?
A. I was pleasantly surprised by the number of grandparents who submitted responses. Although the site is called the Parent Toolkit, we see it as a resource for all members of a family, and for anyone that has an opportunity to support a student – like all of your CIS site coordinators.
Q. You've encouraged contributions from parents, teachers and students. Is there any common theme – or any surprising divergence – that really jumps out at you?
A. By and large, everyone is focused on academics. That isn't entirely surprising, since this is a back-to-school campaign, but our earlier poll found that a majority of parents (54%) think good communication and social skills are most important to their child's future success, while only 23% ranked good grades as a top skill. So the difference between the poll and the resolutions is interesting. While a lot of resolutions focused on helping with homework, or reading together more, we've also seen a significant amount of people using the word "encourage" in their resolution for how they plan to support the students in their lives. That's probably something that every adult can do in a more intentional way.
Q. At CIS, we have thousands of trained site coordinators in public schools all across the country. If you could point our folks to one pressing need, based on what you're seeing in the campaign, what would it be?
A. The big takeaway is that parents want to be involved. They are interested in easy and effective ways to navigate their children's development. The NBC News Parent Toolkit is a great one-stop resource that helps parents support their child in the classroom and beyond. Additionally, making face-to-face connections with families in your communities is important. While people are welcome to visit our site and submit their resolutions, the campaign will have more success if parents and community members continue to find new ways to grow their engagement.
If you'd like to contribute a photo, video or written comment, just visit the School Year's Resolution page and learn how to submit. And be sure to look for my resolution while you're on the site!