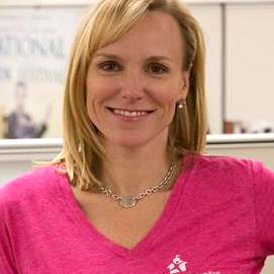 20 Questions in 60 Seconds is our blog series in which we interview Communities In Schools staff members. This week's guest is Kelly Masley, Chief of Staff at the Communities In Schools National office. 
1. What is your personal philosophy?
In all things, big and small, be part of the solution rather than the problem.
2. What woud you like to be your greatest accomplishment?
Maintaining a close relationship with my daughter through her teenage years, and watching her grow up to be a happy, strong, intelligent woman.
3. Ten years ago, who did you think you would be now?
A mother and an organizational superhero for an effective and do-gooding executive (I didn't know Dan yet but he fits the bill).
4. What's one thing you couldn't live without?
Cherry Chapstick.
5. What are you listening to/reading these days?
Listening to: This American Life (always) and Mystery Show with the super quirky Starlee Kine.
Reading: The Brief and Wondrous Life of Oscar Wao, while Our Kids and Under the Banner of Heaven sit half-finished. 
6. What is the one thing you cannot resist? (food/dessert/candy/etc.)
The list is super long but includes Cheetos, guacamole and anything with peanut butter or salted caramel. Outside the food realm, Bravo.
7. What is your greatest fear?
Being separated from my family in a disaster.
8. Where is your favorite place to be?
My bed with my whole family, cats too.
9. What is your favorite thing to do?
Eat and drink in the sun with people who make me laugh.
10. Where is the best place you've traveled to and why?
And with that segue....St. Lucia because of the weather and the company. We were joined by two of the funniest couples in the world (minus our kids) for a week of hilarity and all-inclusive indulgence.
11. What's the weirdest job you've ever had?
Wearing a bear costume for a kids fashion show...and running into someone I knew in the elevator , unbeknownst to them.
12. What's the coolest (or most important) trend you see today?
I think the most impactful trend is social media...but I'm not sure I think it's cool.
13. What has been the most important innovation you have witnessed in your lifetime?
Smart phones.
14. Do you have any pets? What kind?
Since we're too lazy to get another dog, we got two cats last year - Jinx and Yinzer - and we are thrilled with our choice.
15. If you could do another job for just one day, what would it be?
Work in a food truck...with Amy Schumer.
16. What advice do you have for kids who are struggling in school?
This is way more important than it seems. Don't regret it later.
17. What would you most like to tell yourself at age 13?
Boys don't deserve so much of your time and energy.
18. What are your three most overused words/phrases?
"Gotcha"
"Where should we go for dinner?"
19. How do you define success?
Leaving things and people better off than before you arrived, and being happy while doing it.
20. What is your favorite thing about working at Communities In Schools?
So many things: the ton of PTO, a genuine, collective desire to make the world better, working with people who know how to make humor from Internet photos and share my love of food (except Dan who doesn't eat carbs).
Have more questions for Kelly? Add them to the comments below and she'll answer them!