What We're Reading: Hurricane Katrina Edition
By Anya Alexander Aug. 28, 2015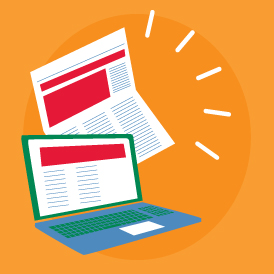 Ten years ago, Hurricane Katrina ripped through the city of New Orleans, Louisiana and coastal Mississippi and Alabama, leaving major devastation across the area and thousands of people displaced searching for a place to live. Many who survived the storm and its aftermath still remember and deal with its terrible impact.
This week we reflect on two of our very own, Communities In Schools alumni that not only weathered the storm, but thrived despite their personal circumstances.  
Christian Brister was eight-years-old when her family left New Orleans after Hurricane Katrina in 2005. She evacuated to Charlotte, NC where her family struggled financially and were forced to move into a series of shelters and motels.
"I don't think I ever got depressed," she said, "but I was always stressed."
School became her sanctuary and Jamal Kinard, a site coordinator at Communities In Schools of Charlotte-Mecklenburg helped her deal with that stress.
Now, Christian is looking ahead to a bright future. In May, she graduated from Phillip O'Berry High School and plans to start her college career at UNC Chapel Hill this Fall.  Read more about her journey here.
New Orleans native Talitha Halley's world was turned upside down when Hurricane Katrina hit in 2005. At only 12-years-old, Halley along with her mother and sister were forced to move from their hometown and relocate to Houston, Texas.
At Sharpstown High School in Houston, Halley was among about 300 Katrina refugees. Communities In Schools of Houston ran two support groups just for the teens from Katrina, and Halley joined.
She credits Communities In Schools site coordinators Donna Wotkyns and Eric Johnson for helping her get acclimated to the new environment. They provided emotional support and created a safe haven for her and other Katrina students to express their feelings, fears, and dreams about their future.
"They matched my enthusiasm for life and helped me recognize that my potential was a great foundation for me to build on. Personally, they kept me grounded. I've been exposed to so many different and wonderful opportunities through CIS."
Talitha graduated in May from Howard University and is now working at a media company in Baltimore, MD.
She shares her journey and the support she received along the way from Communities In Schools and a circle of mentors who have helped her achieve success with Essence.com.  
Are You #AllinforKids?

 
Join our community of changemakers and stay connected with us! 
Learn more about the work Communities In Schools is doing to empower and equip every student to take on and tear down the barriers that stand between them and an equitable path to education. 
↑

TO TOP