Staff Spotlight: 20 Questions in 60 Seconds with Patti Aldaz-Carrasco
By Megan Hoel Sept. 7, 2015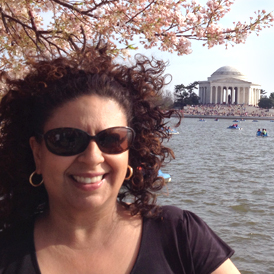 20 Questions in 60 Seconds is our blog series in which we interview Communities In Schools staff members. This week's guest is Patti Aldaz-Carrasco, Director of Talent Development at the Communities In Schools National office. 
1. What three traits define you?
Integrity, adaptability, compassion.
2. What would you like to be your greatest accomplishment?
Having helped a child feel better about themselves.
3. Ten years ago, who did you think you would be now?
Who I am today.
4. What's one thing you couldn't live without?
Family and friends. I get my strength from the love and support around me.
5. What are you reading these days?
Switch, Chip and Dan Heath. Look Me In the Eye, John Elder Robinson.
6. What is the one thing you cannot resist? (food/dessert/candy/etc.)
Pastries!
7. What is your favorite thing to do?
Long meals (and cocktail hours) with friends. Afternoon of marathon movie watching.
8. Where is the best place you've traveled to and why?
Parque Nacional de Uruapan, Michoacan (Uruapan, Michoacan, Mexico National Park). Breathtaking views, waterfalls and lush vegetation all right in the middle of a Mexican colonial town. Remarkable!
9. What's the weirdest job you've ever had?
I was a bouncer for one week at a bar called "Wild Hares".
10. Who is your biggest inspiration?
My parents.
11. What does true leadership mean to you?
Inspiring others.
12. What's the coolest (or most important) trend you see today?
I'm in absolute awe of the power that social media has on movements, spreading the word and making an impact.
13. What has been the most important innovation you have witnessed in your lifetime?
Again, social media.
14. What would you do (for a career) if you weren't doing this?
Work in a disenfranchised community providing advocacy.
15. Do you have any pets? What kind?
We've HAD up to 3 dogs, 2 cats, 3 turtles and a fish at one time. We're down to a tiny Chihuahua and hope to keep it that way for a while.
16. What advice do you have for kids who are struggling in school?
Ask for help! More people than you know are there to help you if you just ask.
17. What would you most like to tell yourself at age 13?
Trust your instincts, you're smarter than you think.
18. How do you define success?
Happiness and peace in your life.
19. What is the best book you have ever read?
Anything that makes me laugh out loud and helps me relax. Bill Bryson's "A Walk in the Woods" and any of David Sedaris' works do the trick.
20. What is your favorite thing about working at Communities In Schools?
Not just one thing.....That I, in a small way, get to play a role in creating a better world and impact lives and that I get to do it surrounded by people who are caring, inspiring, relentless in their work and committed to helping kids have a good life. 
Have more questions for Patti? Add them to the comments below and she'll answer them!
Are You #AllinforKids?

 
Join our community of changemakers and stay connected with us! 
Learn more about the work Communities In Schools is doing to empower and equip every student to take on and tear down the barriers that stand between them and an equitable path to education. 
↑

TO TOP