Ten Surprising Reasons Students Don't Go To School
By Alison Bourgault Sept. 9, 2015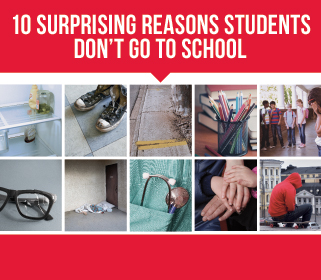 This fall, U.S public schools will welcome back a majority of students who are living in poverty. In urban, suburban and rural school districts across the country, a shocking 51% of public school students are now low-income, according to the National Center for Education Statistics.
Many will come to school hungry, homeless, ill-clothed or lacking basic medical care. And their teachers are likely to be overwhelmed by their level of need. In fact, a poll this summer of teachers nationwide found that last year alone, 54% of teachers used their own money to help feed students and 49% of teachers helped their students get new clothing or footwear. So as back-to-school approaches, Communities In Schools, the nation's largest and most effective dropout prevention organization, is working hard to help these at-risk students. By helping these students overcome the non-academic barriers in their lives, CIS is helping kids focus on learning and freeing up teachers to teach.
1. They're hungry
2. They can't see the blackboard
3. They don't have shoes or clothes
4. They're homeless
5. They can't get there
6. They're in poor health
8. They need to support their family
9. They feel like they don't fit in
10. They need a caring adult in their life
To learn more about the ten surprising reason students don't go to school, view or download the infographic here.
Are You #AllinforKids?

 
Join our community of changemakers and stay connected with us! 
Learn more about the work Communities In Schools is doing to empower and equip every student to take on and tear down the barriers that stand between them and an equitable path to education. 
↑

TO TOP