Staff Spotlight: 20 Questions in 60 Seconds with Gary Chapman
By Megan Hoel Oct. 19, 2015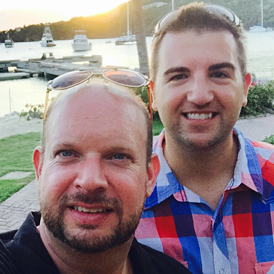 20 Questions in 60 Seconds is our blog series in which we interview Communities In Schools staff members. This week's guest is Gary Chapman, Executive Vice President for the National Network at the Communities In Schools National office. 
1. What three traits define you?
Perserverance, equity, urgency.
2. What is your personal philosophy?
1- Work hard at something that makes the world a better place. 2- The only difference between us is opportunity.
3. What would you like to be your greatest accomplishment? 
Making an equitable public education system for America and other countries that lifts the next generation out of poverty.
4. Ten years ago, who did you think you would be now?
Working at CIS.
5. What are you listening to/reading these days? 
David and Goliath by Malcolm Gladwell and listening to the soundtrack for the musical, the Book of Mormon - hilarious!
6. What is the one thing you cannot resist? (food/dessert/candy/etc.)
Gummy bears.
7. What is your greatest fear?
Losing my teeth.
8. What is your favorite thing to do?
Travel with my partner Ronnie.
9. Where is the best place you've traveled to and why?
I just got back from St. John U.S. Virgin Islands and it was spectacular - stunning views and eco-tourism.
10. What's the weirdest job you've ever had?
I was a car repo man for a while.
11. What does true leadership mean to you?
Giving everyone their space to shine.
12. What's the coolest trend you see today?
Funky socks for guys.
13. Which one would you want most - flying cars, robot housekeepers or moon cities?
Oh, definitely flying cars - I would be the first in line.
14. What would you do (for a career) if you weren't doing this?
I would be running a Zaxby's Chicken franchise and making sure the citizens of the DC metro area had the pleasure of enjoying southern fried chicken tenders.
15. Do you have any pets? What kind? 
Two awesome dogs - Jack and Lucy.
16. If you could do another job for just one day, what would it be?
Donald Trump's hair stylist.
17. What advice do you have for kids who are struggling in school?
Hang in there and try! It's going to get better.
18. What would you like most to tell yourself at age 13?
Workout.
19. Tell us something that might surprise us about you.
I was the first person in my entire close and extended family to graduate from college.
20. What is your favorite thing about working at Communities In Schools? 
Our mission to do whatever it takes for more and more kids and the professionals that drive that mission each and every day across America.
Have more questions for Gary? Add them to the comments below and he'll answer them.
Are You #AllinforKids?

 
Join our community of changemakers and stay connected with us! 
Learn more about the work Communities In Schools is doing to empower and equip every student to take on and tear down the barriers that stand between them and an equitable path to education. 
↑

TO TOP