Borrowed Brains: Q&A with Sandra Miniutti, Charity Navigator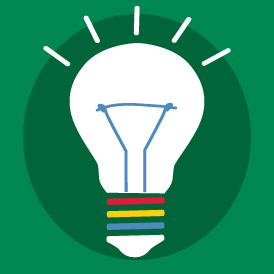 Individual Americans give nearly $230 billion a year to charity, and much of that comes during the "Giving Season" that runs from Thanksgiving through the New Year. With charitable giving a top-of-mind concern in so many households, we wanted to pick the brain of Sandra Miniutti, CFO and Marketing VP at Charity Navigator, the nation's largest and most-utilized charity evaluator. Read on for her thoughts on giving from the heart and the head.
Q. Your mission at Charity Navigator is to "guide intelligent giving." How do you define that, and why does it matter?
A. Intelligent giving can mean different things to different givers, but the basic idea is that you are proactive in your giving, rather than reactive. In other words, you aren't waiting for a charity to ask for support. Instead, you are making an effort to find great charities that are addressing the causes that align with your philanthropic passions.
From our perspective, more specifically, we advocate that donors vet three areas of a charity's performance; (1) financial health, (2) accountability & transparency and (3) results.
Q. How do you think your work at Charity Navigator helps to improve the whole nonprofit ecosystem?
A. We are an information intermediary that delivers unbiased information to donors on the charities seeking their support. Ultimately, our role is to provide trust – that is, help donors have trust in the charities they support.
Q. At Charity Navigator, you have a whole staff of program analysts who evaluate charities for financial health, accountability and transparency. What is that you're looking for, exactly?
A. Within our existing rating system, they are looking at metrics around financial health, accountability and transparency (which you can learn about in detail by clicking here). Broadly speaking, we want to inform donors if a charity is financially efficient, financially sustainable and if the charity has the right policies and procedures in place to help assure ethical behavior.
Our analysts are also actively involved with the ongoing R&D with our methodology. That includes everything from small tweaks to the metrics, to reorganizing the way we categorize charities, to bigger changes we are working on for our financial metrics and to incorporating results reporting metrics into our overall rating.
They regularly communicate with the charities we rate, they serve on various committees – such as the Donor Advisory Issuance Committee- and they are involved with all aspects of our own charity's operations – including marketing and fundraising.
Q. Finally, I think we all know of a charity that we care very much about, even though they might not score very high on standardized evaluations. Is there ever a reason to prioritize passion over professionalism in the nonprofit sector?
A. It is not our intent to tell anyone what to do with their money, but merely to provide them with the data they seek to make informed giving decisions. So, yes, there may be times when a donor wants to take a 'risk' on supporting a charity that doesn't perform great in our rating system. For example, the donor has a close relationship with the charity (as a volunteer, board member or past recipient of services) and knows it has a plan to improve.
But I don't know that I would ever recommend putting passion completely over performance. That's because with 1 million charities in existence today, donors more often than not have the opportunity to find another charity fulfilling the same mission, but with a greater level of performance.
Before you do your year-end giving, click over to Charity Navigator and type a name into the search bar right at the top of the page. You'll find all sorts of great information designed to ensure the maximum bang for your charitable buck. (And while you're at it, try typing in "Communities In Schools." I think you'll be impressed with the numbers you find there!) If you like what you see, we hope you'll consider donating to Communities In Schools this giving season.
Are You #AllinforKids?

 
Join our community of changemakers and stay connected with us! 
Learn more about the work Communities In Schools is doing to empower and equip every student to take on and tear down the barriers that stand between them and an equitable path to education. 
↑

TO TOP