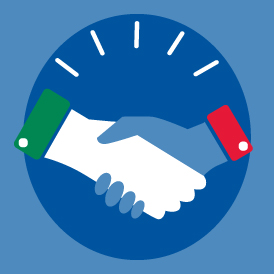 With our new blog series, Partners in Good, we will profile some of the incredible organizations that make our work possible, whether through investment, programming or other forms of support.
"Whatever it takes" – that's the CIS approach for helping disadvantaged kids stay in school and succeed in life. Whether they need food or clothing or tutoring or mentors, we offer the kind of wraparound supports that can help them overcome every barrier life has put in front of them.
And every now and then an investor comes along who really gets CIS to such a degree that they not only want to support us, but they want to do it in much the same way that we support our students.
We recently announced a $4.5 million contribution from AT&T that is so generous and so comprehensive, it practically amounts to wraparound support for the entire network. The funds are earmarked for several different priorities that will benefit every local affiliate and the network as a whole:
Technology – New database software will allow real-time tracking of services and outcomes to ensure that every student is getting what he or she needs.
Training – CIS University will expand its programming and a host of new resources and tools will be offered through a new National Resource Center.
Research – AT&T funding will help to establish a center for translating our cutting-edge education research into everyday practice.
Reach – Dedicated funding will extend our site coordination services to an additional 7,500 students in 12 communities.
Relationships – AT&T employee mentors will further their interactions with CIS students, both onsite and online via a pilot of new Nepris technology.
It's so gratifying to work with AT&T  because they truly understand our work and allow us to advance our priorities on many different fronts. That really is the kind of "whatever it takes" mentality that binds us together.
This investment would be gratifying enough as a one-time thing, but the fact is, even before the latest announcement, AT&T had invested nearly $12 million in CIS, making them our single largest corporate supporter. In the last five years, AT&T has enabled more than 150 local affiliates and state offices to provide intensive case management services to 73,000 at-risk students. On a more personal level, AT&T employees have provided 40,000+ volunteer hours on behalf of our students, and 12 employees serve on CIS boards across the country.
Obviously this is a relationship that has length and breadth and depth, and it's been gratifying for me to watch it grow throughout the years. Our president, Dan Cardinali, likes to stress the power of relationships in all his speaking and writing, so I asked him how it feels to be on the receiving end of such a generous and nurturing relationship with AT&T:
"Because our missions align so thoroughly, AT&T is willing to give us latitude when putting their investment dollars to work," Dan said. "That allows us to stay focused and do what we do best. Beyond the sheer dollars, AT&T makes a huge effort to connect their employees with our students in meaningful mentoring relationships. You just can't put a price tag on the hours they are investing in the lives of at-risk kids.
"So I would describe the AT&T relationship as strategic and generous and deeply personal. That's pretty extraordinary, in my experience."
Dan took the words right out of my mouth. I think he sums up the incredible gratitude that we all feel toward AT&T.
But there's also a message here for everyone at CIS: It's your great work that allows us to bring in these amazing investments. When millions of dollars are on the line, funders want to know that they are making a real, measurable difference. At CIS, we strive constantly to be effective and responsive and data-driven, and it's that commitment that allows us to hold up our end of the relationship.
Here's how Nicole Anderson, Executive Director of Philanthropy at AT&T puts it: "Our goal is to remove barriers to academic success, and help all students — regardless of age, gender, income or zip code — make their biggest dreams a reality. We can't do that without the work of amazing organizations like Communities In Schools.  CIS surrounds students with the vital supports they need to realize these dreams, and this new funding allows more students to experience the welcome and lasting embrace that CIS offers
That's exactly the kind of organization we want to be, and this contribution will make us even better at what we do. Over the next two years, watch as we put the money to work in technology, training, research, reach and relationships. Every local affiliate will benefit in very specific ways, and thousands of new students will experience the benefits of wraparound supports – all because AT&T chose once again to throw its support behind our mission of helping young people succeed in school and in life.