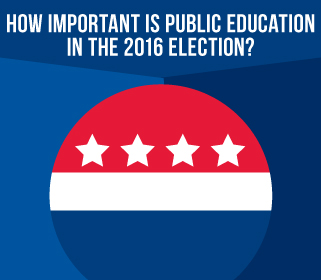 With another round of presidential debates coming up next week, we are left to hope that education will make its way into the forefront of candidates minds.
Communities In Schools and Public Opinion Strategies recently completed a national poll on the issue of K-12 public education of 1,200 likely 2016 voters in swing states.
Here's what we learned:
68% say improving K-12 public education should be a top priority for the next President.
Furthermore, 76% believe it should be a top priority for all children to get a good education, no matter their economic circumstances.
BUT, only 36% say they've heard the major candidates talk about these important issues.
Do you believe the candidates have adequately addressed the issue of public education in the presidential debates? What topics would you like to hear them elaborate on next week?
Tell us in the comments.
Download the infographic here.