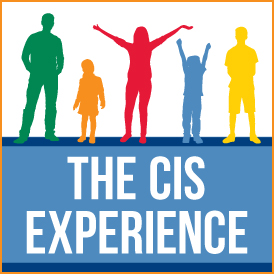 Happy holidays!
'Tis the #seasonofgiving. For our CIS Experience students, the holidays are a time to reflect on their accomplishments and celebrate the progress they've made with the support of their site coordinators. It's also an opportunity for them to give back.
Many are showing their gratitude by sharing the holiday joy with members of their communities. From "adopting" younger children to coordinating food drives, our students prove that #ItOnlyTakesOne to make a difference and impact lives.
In their own words, these students discussed how they are giving back this season. Read on to learn more:
"Everybody needs a meal. Sometimes the only meal kids get is breakfast and lunch at school. Over Christmas break we will be out of school for two weeks. That's why I'm helping with the food bank holiday food drive. I know the good feeling of having someone help my family with food so we weren't hungry any more. I want to give that feeling to other kids." - Makayla (CIS of North Carolina)
"This season, I adopted six elementary students and a local family. I will deliver gifts to them. I have been fortunate to have a community of adults around me who always made sure that I was happy and loved during this season. I want to be able to do that same for these students and the family. I can't wait to deliver their presents to them." -  Monica (CIS of Delaware)
"I want to spend quality time with family because not every day, week, month, or year is promised.  On a bigger scale, I wish foster kids could spend valuable time with families or someone close to them because life is hard and especially in their position, they need a family." - Donald (CIS of Mid-America at Tulsa)
"It's my senior year, and I'm busy getting through it, and getting it done. Being a senior makes me think back to my days as a child, and so my holiday wish is to make another child happy.  I'm going to my grammar school today. When I was a student there, someone who had graduated from there came back and reached out to me, and gave me a gift. I want to follow in those same footsteps and ask my old school which child there I can gift. I know some students have problems at home, and so I want to give back and be like the fellow alumnae who helped me, and give back to the younger ones." – Gabriel (CIS of Chicago)
"I feel good about helping others this holiday season and I am very proud to contribute to the food drive as well to raise awareness about the food bank." – Logen (CIS of Mid-America)
Our CIS Academy class at Desert Pines High School is helping 25 foster children ages 2-5 achieve their Christmas wishes by hosting a holiday drive to collect warm clothes, toys, blankets and stuffed animals. We hope this will make an impact in our community! – CIS of Nevada
"It feels great to give to kids that are in need who need it more then us! I already feel that we have a lot." Alejandro (CIS of Nevada)
In Shaner Elementary in Topeka, Kansas, students were eager to pass on the holiday spirit. Thus, CIS of Mid-America at Northeast Kansas Site Coordinator, Susan Ortega, organized a school-wide food drive contest, which resulted in hundreds of can goods to benefit local shelters. The 5th-grade class at won the drive, colleting 241 cans of goods.
Continue reading to find out how the students felt by participating in the food drive:
Ann – It feels good that I'm helping people who don't have that much food.  I hope they can have a happy holiday and they like what we give.
Grace – I don't want people who don't have much to go hungry and I gave stuff so they would have stuff to eat.
Bibyana – We had a lot of stuff at my house and I know how they feel.  We didn't have much before but now we do and we can share.
Britney – I want to help. I want to be a helper around the world. Some people don't have much and they need things to survive and we can all help them. I like giving to others and helping the poor.
Mikah – My mom asked me to bring the cans to help others; it made me feel good to help.
Wondering how you too can give back this season? Click here to give today to support our work with at risk students across the county.
Remember, #ItOnlyTakesOne to make a difference.