With Bank of America, Partnership Is Personal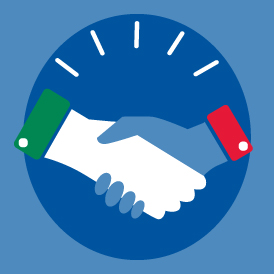 In our blog series Partners in Good, we profile some of the incredible organizations that make our work possible, whether through investment, programming or other forms of support.
At Communities In Schools, we're incredibly fortunate to have corporate and foundation partners who invest in our work year after year. That kind of "repeat business" is a huge vote of confidence, because these partners look long and hard at an organization before deciding where to put their charitable dollars to work.
But it's not just money that tells us our corporate partners are confident in CIS. Again and again, after they study our books and learn our model, executives from these companies choose to volunteer their own time with a local CIS affiliate. Contributing institutional dollars and personal time—I can't think of any stronger vote of confidence than that.
Take our partners at Bank of America, for instance. Over the years, they have directed substantial financial support to CIS affiliates and the national office, in addition to countless hours of volunteer time. Bank of America employees get two hours of paid time off every week to volunteer in the community, and this focus on employee engagement is one of the things that makes our relationship especially rewarding.
Two hours a week can make a huge difference in the life of an at-risk student—just ask Bryt'tani Sellers. Today she's studying at a community college in Charlotte and applying for the police academy, but seven years ago, she was a struggling middle school student with occasional behavior problems. Although Bryt'tani was a high-performing student who dreamed of becoming a forensic scientist, the kids in her low-income neighborhood typically attended a failing high school where college dreams were mostly unrealized.
But during her 7th-grade year Bryt'tani met Abby Hollingsworth, and her future took an unexpected turn. Abby worked at the Bank of America Charitable Foundation, and she had recently learned of CIS while reviewing one of our grant proposals. The more she read, the more she felt moved, and she quickly decided that she wanted to get involved outside the office.
"I knew I wanted to do mentoring," Abby recalls, "and I found out CIS had an opportunity in Charlotte. I love working with young people and thought this was a great way to get involved."
In her two hours of company-sponsored time, Abby started meeting with Bryt'tani each week during study hall. They talked about life and school and dreams and realities. Eventually, the study hall period seemed insufficient, and Abby started taking Bryt'tani out on the weekends, too—museums, coffee shops, volunteer projects and so forth.
Because her charitable portfolio included workforce development, Abby knew that low-income students are especially at risk for learning loss over the summer. So as the school year came to a close, she contacted Bryt'tani's mother and arranged to continue the mentoring relationship throughout the summer and into the 8th grade.
As the relationship deepened, Abby became more and more concerned about Bryt'tani's future educational prospects. Rather than settling for the under-resourced school in her neighborhood, Abby helped Bryt'tani apply for a highly regarded magnet school for science, technology, engineering and math (STEM). "They have much more ambitious students and a better college-going culture, but Bryt'tani didn't even know it was an option. That's the kind of situation where a mentor can make all the difference."
Even after enrollment in a magnet school, Abby discovered that Bryt'tani would face barriers she had never imagined. Take something as simple as homework, for instance: "In the magnet school, all of her papers had to be typed up. Bryt'tani didn't have a computer, the library was two miles away, and she couldn't use the computer lab after school because she rides the bus and has a single mother who needs the car. I ended up giving her my old laptop. It's not great at all, but as far as word processing, it works.
"Things like that would never occur to you if you didn't have a relationship with this girl. You wouldn't think about the barriers she still faces once she gets into this great school. So mentoring Bryt'tani gave me a deeper understanding of how hard it is for a kid to break the cycle of poverty, even when that kid is working really hard and doing all the right things."
After five years as a mentor, Abby got married and moved away, but she continued to check in with Bryt'tani every other month when work brought her back to Charlotte. And in June, she made a special trip to watch Bryt'tani walk across the stage with her diploma. "I just wanted to celebrate with her," Abby says. "It felt so rewarding, especially knowing how hard she worked to get to that point."
As senior vice president and philanthropy manager at the Bank of America Charitable Foundation, Abby is in the enviable position of giving away funding to projects that advance the foundation's mission of making financial lives better. But for the rest of us who can't write big checks, she believes mentoring is the absolute best way to make a difference.
"Going to the food bank or building a house is great, but those things don't have the same one-on-one impact on another life. You don't need any particular skill set to be a mentor; you just need to care, and you just need to be there."
I'm glad that Abby was there for Bryt'tani, and I'm grateful that the Bank of America Charitable Foundation has been there CIS. It's proof positive that good things can happen when companies join with nonprofits to unleash both financial resources and human resources in a strategic way.
Are You #AllinforKids?

 
Join our community of changemakers and stay connected with us! 
Learn more about the work Communities In Schools is doing to empower and equip every student to take on and tear down the barriers that stand between them and an equitable path to education. 
↑

TO TOP