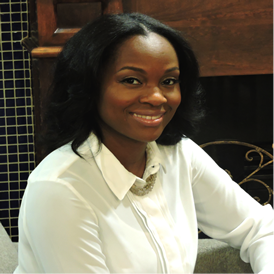 20 Questions in 60 Seconds is our blog series in which we interview Communities In Schools staff members. This week's guest is Anya Alexander, Associate Director, Public Relations at the Communities In Schools National office.
1. What three traits define you?
Confident. Passionate. Ambitious.
2. What is your personal philosophy?
Feel good. Do good. And most importantly, look good while you're doing it!
3. What would you like to be your greatest accomplishment?
To raise my daughter to be a smart, caring, confident woman who is not afraid to follow her instincts and achieve her dreams.
4. Ten years ago, who did you think you would be now?
A beauty editor at a fashion magazine!
5. What's one thing you couldn't live without?
Pumps and lip gloss, of course! No seriously, it would have to be my faith as well as the love and support of my amazing family.
6. What are you reading these days?
When I'm not reading bridal magazines to gain inspiration for my upcoming wedding in May, I often check out Education Week and Washington Post to keep abreast of the news and current events.
7. What is the one thing you cannot resist?
Beignets (french donuts). Simply irresistible.
8. What is your greatest fear? 
Losing my life senselessly.
9. Where is your favorite place to be?
At home in Louisiana eating my mother's home cooked meals, especially my favorites, red beans and rice, gumbo, craw-fish etouffee, stuffed bell peppers, jambalaya and the list goes on.
10. What is your favorite thing to do?
Aside from spending time with my loving husband to-be Brian Harrington, and daughter Aubriana, I really enjoy shopping...for shoes, clothing, furniture and everything in-between!
11. What would you do (for a career) if you weren't doing this?
I would be a gospel singer.
12. Where is the best place you've traveled to and why?
I love France. Paris is my all-time favorite city for obvious reasons. But the French Rivera, specifically Nice is also pretty amazing! 
13. Who is your biggest inspiration?
I am inspired by the long line of women in my family who have demonstrated incredible strength, perseverance and grace including my mother, Veronica Alexander and sister Angelica. My biggest inspiration comes from my daughter who inspires me everyday to put my best foot forward in everything I do.
14. What does true leadership mean to you?
True leadership is having the ability to be your best self in the face of adversity. It means being open to change and the opinions of others while aiming for excellence. Lastly, in order to be a true leader, one must first be a good follower. I strive to learn lessons from those whom have beaten the path for me. I plan to use this acquired knowledge to eventually blaze new trails for others to follow.
15. What has been the most important innovation you have witnessed in your lifetime?
Social media. It has literally changed the way people receive, share and collect information.
16. If you could do another job for just one day, what would it be?
Beyoncé's publicist.
17. What advice do you have for kids who are struggling in school? 
Never be afraid to ask for help. Exhaust all your options. Find someone who can give you sound advice and take it.
18. How do you define success?
Success is loving who I am, what I do and knowing I've made a positive impact in someone's life.
19. What is the best book you have ever read?
I love inspirational books. My personal favorite is The Purpose Driven Life by Rick Warren.
20. What is your favorite thing about working at Communities In Schools?
I feel privileged to have the opportunity to do cause-related work. I truly enjoy contributing to making differences in the lives of others. It brings me great joy and satisfaction. It also helps to fulfill an age-old adage which I apply in my life; to whom much is given, much is required.
Have questions for Anya? Comment them below and she'll answer.