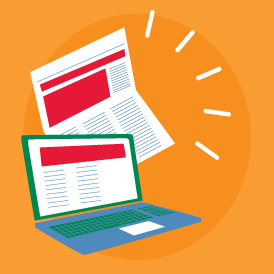 January is National Mentoring Month, a time set aside to focus national attention on the need for mentors, as well as how each of us—individuals, businesses, government agencies, schools, faith communities and nonprofits—can work together to increase the number of mentors to assure positive outcomes for our young people.
At Communities In Schools (CIS), we believe in the power of one – one person, one relationship can change a student's life. Through one-on-one relationships, CIS surrounds students with available resources in the community needed to keep them in school and overcome their challenges.
Whether individual mentoring services or financial donations, our affiliates work with local partners to ensure the students we serve receive effective mentoring throughout the school year.
In Georgia, Communities In Schools of Milledgeville-Baldwin County partnered with Georgia College students and community members to provide direct mentoring to students. The mentors devote an hour or two each week offering moral support, academic assistance and wisdom attained through their life struggles, perseverance and triumphs to young students. Read more in the Union Recorder.
Site coordinators from Communities In Schools of Golden Crescent initiated an attendance incentive program to reduce students' truancy at Victoria High School. The program partnered with local groups including the Project Success Assistant for Kidz Connection, parent liaisons and the Victoria West administrative staff, to provide mentoring and support services to chronically absent and at-risk students to ensure that they increase their school attendance. Read more here.
Communities In Schools of Cape Fear organized a fundraising polar plunge in Wrightsville Beach, NC to support its educational programming. Some of the proceeds will support Wilmington Youth Center for Inspiration, Recreation and Education (WIRE) – an after-school mentoring and educational program for at-risk middle and high school students and their families. Continue reading.
Mentoring is invaluable. Its reach and impact goes beyond good grades and school attendance. It drastically transforms the lives of students and adults alike. 
Through mentoring, Makayla, a student served by Communities In Schools of North Carolina in Pamlico County, went from having no confidence and being shy to living life with a positive outlook. Read more about Makayla.
Mentoring is the focus of our Staff Spotlight with Megan Walker Grimaldi, Director of Research at the Communities In Schools National Office. When asked, "What advice do you have for kids who are struggling at school?" Megan responded, "Find a mentor. There are so many people who want to mentor young people...Oftentimes, grown-ups feel more happy and fulfilled than you can possibly imagine, just because they get to work with someone like you. You are very special and there's an adult out there just waiting to tell you that." Click here to learn more about Megan.
Finally, check out this week's Smart Reads:
Are you mentor or a mentee? Tell us about your experience below.