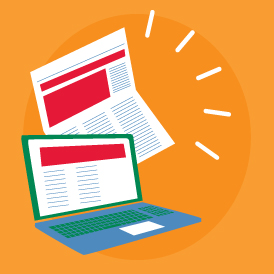 This week, we're reading about mentoring programs within our network.
Rick Villa, a site coordinator from Communities In Schools of the Golden Crescent is building an army of volunteers to undergird the CIS mentorship program in the area. The program, which supports 972 students and has about 30 current volunteers, was instrumental in rebuilding the hope and confidence of Megan Summa.
Reflecting on her experience with the CIS mentorship program, Megan said, "I came to CIS, and they actually looked at me and said you have potential. It's nice actually having people sit there and look at you and actually look at you and care about you and try to get you to succeed." Continue reading.
In Moore County, NC, Communities In Schools of Moore County partners with volunteers to mentor students within the county. Volunteer mentors are paired with students and spend about eight hours a month simply spending time with their mentees. Through these positive one-on-one relationships, students overcome truancy, academic challenges and other nonacademic barriers to success. Read more in The Pilot.
To motivate and inspire students at Manor Middle School, Virgie Reed, Communities In School of Central Texas site coordinator, arranged for radio and television personality Sonny Melendez to visit the school. During his talk, Sonny stressed the importance of having big dreams saying: ""Dreams don't care who the dreamer is… You have to keep going, because sometimes you can't see how close you are to the top of the mountain." Read more about Sonny's visit here.
Sarah Shaney, program manager of Communities In School of Central Texas, was featured as this week's American Graduate Champion by KLRU as part of the American Graduate Initiative. Sarah was lauded for doing "whatever it takes to help her students, from providing basic needs assistance and individual and group sessions, to success coaching to help her students stay on track with their academic goals." Read more here.
Lastly, check out Children First/Communities In Schools of Buncombe County annual report in this slideshow. Last year, the organization served over 2,800 children with its direct service and education enrichment programs, while advocating for 100 percent of children living in Buncombe County.
Have you been impacted by a mentoring relationship? Tell us about it below: