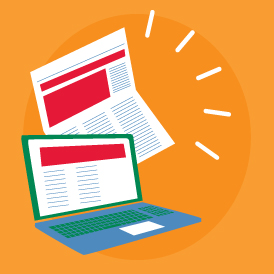 This week we're reading about the importance of student reading literacy.
According to Gary Chapman, executive vice president for Impact and Operations at Communities In Schools National Office, inability to read at grade level is "one of the early warning indicators," and "if kids are off-track in any of those areas, they're much less likely to graduate." 
In a TakePart.com article, Chapman said, "we find in so many ways it's their lack of on-level reading abilities that's driving their lack of interest in school."
In our network, Communities In Schools of Milledgeville Baldwin County (GA) celebrated National Read Across America Day by partnering with school officials to bring volunteer readers to Eagle Ridge, Creekside, Blandy Hills and Midway elementary schools and Early Learning Center to read to students.
"CIS of Milledgeville-Baldwin County has aligned our focus with the Baldwin County school system mission: to educate students who will graduate from high school with the knowledge, skills and values to be college and/or career ready in order to be contributing members of a global society," said Sandy Baxter, CISMBC executive director. "By promoting literacy, we aim to increase the chance of every student meeting that goal." Continue reading in Union Recorder.
Improving literacy among elementary students is crucial to ending the graduation gap – differences in graduation rates between whites and minorities - in the nation. The ability to read at grade level engenders confidence and greater interest in school.
At Communities In Schools, we surround students with all the necessary resources needed for their success. Communities In Schools of North Carolina recently released their Annual report which revealed that they are graduating or moving up their students to the next grade level despite high levels of poverty and other significant barriers to success. Read more here.
In Washington state, Communities In Schools of Peninsula served over 5,000 students, equipping them with academic, social and other tools needed to overcome barriers to success. Between July 2014 and June 2015, CIS of Peninsula volunteers gave nearly 7,000 hours to supporting the academic success of the students. Click here to read more about CIS of Peninsula's impact and the students they serve.
Lastly, check out this week's Staff Spotlight with Eliza Duquette, Donor Relations Specialist at the Communities In Schools National office. When asked, "what advice do you have for kids who are struggling in school?" Eliza said, "just take it one day at a time and keep your eye on the prize-- whatever that may be. Because small, everyday efforts lead to bigger things down the road." Learn more about Eliza here.