How to Revitalize Your Back-To-School Supply Drive
By Kamila Thigpen Aug. 23, 2016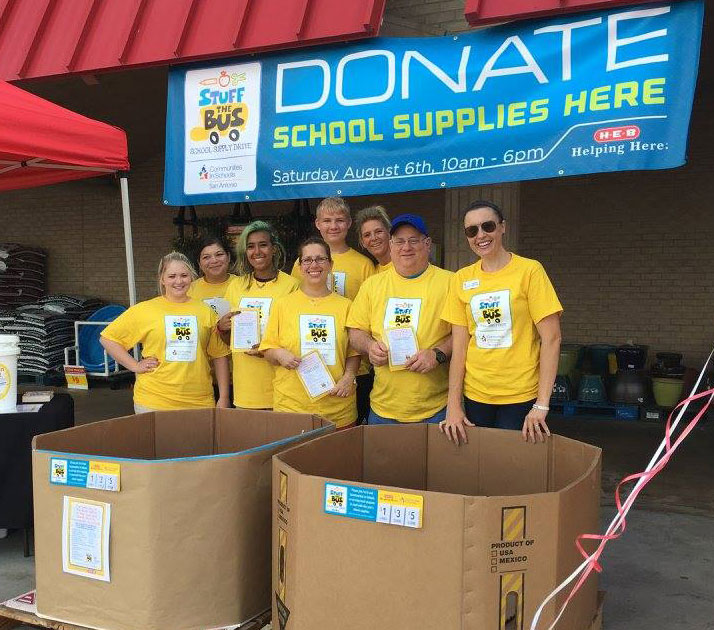 For good reason, school supply drives are one of the most popular ways to mobilize a community to help students in need.
A  recent analysis of federal data shows that a majority of U.S. public school students now come from low-income households and many of these families struggle to afford the cost of sending their kids back to school. According to the annual Huntington Bank Backpack Index, the total cost of supplies, extracurricular activity fees, and college prep materials for a high school student can be in excess of $1,400. That's why school supply drives can be such a powerful way to help families and put students on track to succeed from the first day of school.
But what happens when you add a new twist to an old favorite? Earlier this month, I had an opportunity find out while volunteering at the Stuff The Bus School Supply Drive organized by Communities In Schools (CIS) of San Antonio. In total, CIS of San Antonio collects nearly $500,000 in supplies and monetary donations each year. With more than 20 years of experience organizing this event under their belt, their ability to continuously innovate and come up with new ideas for making it bigger and better every year is truly remarkable.
 Whether you're thinking about how to start a supply drive in your own community, are interested in volunteering, or looking to remix your tried-and-true community event, check out these tips gleaned from the CIS San Antonio team. And, be sure to leave your comments about what's worked best in your community!
1. Expand your digital presence.
Online platforms—like YouGiveGoods—are a great way to supplement a traditional school supply drive. You can set up your own custom page with built in-tools to securely manage and accept supply donations. Once complete, the logistics of collecting and sorting supplies are streamlined by having them delivered directly to you. Coordinating an in-person and online supply drive can help to expand your reach and provide alternative ways for your supporters to give back. Click here to see CIS of San Antonio's online giving page.
2. Partner with local businesses to create "give and get" promotions.
Although there are plenty of supporters who are willing (and happy) to donate with no incentive at all, limited-time "give and get" promotions can provide a great way to engage business partners. To amplify their event, CIS of San Antonio partnered with McDonalds, Starbucks, and dozens of other local businesses to create an array of promotions that included free menu items and in-store events. Click here, here and here to see a few of CIS of San Antonio's promotions.
3. Engage supporters by offering multiple ways to participate.
In addition to accepting cash donations, coordinating hundreds of volunteers to staff community supply drives, and setting up unstaffed collection locations, CIS of San Antonio also partnered with their local grocery chain to include point-of-sale donations at the checkout counter. Tear pads allowed customers to easily select one of three pre-determined donation amounts that could be added to their grocery bill. CIS of San Antonio also partnered with Uber to offer free pick-up and drop-off of donated supplies. On the day of the event, supporters could use the Uber app to easily donate and find dedicated drivers in their area which appeared as yellow school buses instead of the normal car icons.  
4. Invite other youth-serving organizations to join forces.
To pull off an event of such a large magnitude, CIS of San Antonio invites other youth-serving organizations to get involved. In exchange for those organizations volunteering to staff one of the many collection locations around the city, a percentage of the supply donations are then shared among the respective organizations. Rather than create multiple supply drives that ultimately compete for the same community resources, they created an economy of scale by working together to help even more students.
5. Streamline logistics and save time.
Collecting, sorting, and distributing thousands of dollars in supplies to schools is no easy feat! Finding an experienced partner to help with logistics can really help to save time and money in the long run. The more supplies that are collected, the more complicated it can be to manage all of the donations. CIS of San Antonio was able to leverage an existing relationship with the San Antonio Food Bank to offer warehouse space for sorting supplies. They also worked together to develop a joint schedule that enabled the food bank to use its fleet of trucks to pick up school supplies along with food donations from local businesses.
Do you have other tips for revitalizing back-to-school supply drives? Share your best practices in the comments below!
Are You #AllinforKids?

 
Join our community of changemakers and stay connected with us! 
Learn more about the work Communities In Schools is doing to empower and equip every student to take on and tear down the barriers that stand between them and an equitable path to education. 
↑

TO TOP