Staff Spotlight: 20 Questions in 60 Seconds with Durell Whaley
By Megan Hoel Sept. 26, 2016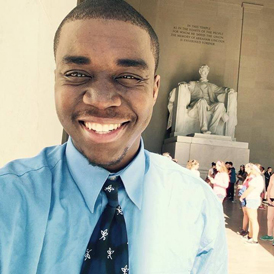 20 Questions in 60 Seconds is our blog series in which we interview Communities In Schools staff members. This week's guest is Durell Whaley, Accounting Specialist at the Communities In Schools National office.
1. What three traits define you?
I'm hardworking, creative and optimistic.
2. Ten years ago, who did you think you would be now? 
I thought I would be playing in the NBA, traveling the world or…working in Accounting of course!
3. What are you listening to/reading these days? 
Hmm I would say some throwback Rnb…Slow Jams…Hip Hop. The 90's has the best music!
4. What is the greatest challenge you have had to overcome in your life thus far?
Graduating from college, I was a first generation college graduate in my family. So I'm thankful.
5. What is the one thing you cannot resist? (food/dessert/candy/etc.)
Pizza from Papa Johns!
6. What is your greatest fear? 
"My deepest fear is not that I am inadequate. My deepest fear is that I am powerful beyond measure."  I'm afraid that I will realized my true potential in life too late.
7. Where is your favorite place to be?
Anywhere in Florida! Always a great time on vacation.
8. What is your favorite thing to do?  
Play basketball and travel.
9. Where is the best place you've traveled to and why? 
I would say Louisville, Kentucky. It's where I went to college. In 4 years the people of Louisville welcomed me and changed my life forever by teaching/showing me the best hospitality. I thank the city of Louisville for many of my accomplishments today.
10. What's the weirdest job you've ever had? 
Working at Forever 21. I was a "Greeter"……which means I had to stand in front of a woman clothing store for hours….
11. Who is your biggest inspiration?   
My father, ever since I was little he showed me the value of hard work through example.
12. What does true leadership mean to you? 
"True leaders don't create followers; they create more leaders" True leadership to me means bringing the best out of everyone.
13. What's the coolest (or most important) trend you see today?
I like how some kids today are referring back to the 90's/80's styles, with tall boxed haircuts and college printed sweaters.
14. What has been the most important innovation you have witnessed in your lifetime? 
iPhones- I watched how phones turned from simple calls to FaceTime videos and integrative apps that could give me anything I need.
15. What would you do (for a career) if you weren't doing this?
I would love to be a Psychologist or famous Historian.
16. You're hosting a dinner party. Who are the 3 people, living or dead, who you would invite and why?
Dr. Martin Luther King Jr. because I have millions of questions to ask him about the past and I wonder how he would feel about today's current events.
President Barack Obama because he's one of my current inspirations in life.
Michael Jackson because I would like to jam out with him one more time. Show him my moves!
17. What would you serve?
Pizza from Papa Johns of course!
18. If you could do another job for just one day, what would it be?
I would be an NBA player.
19. What advice do you have for kids who are struggling in school?
Work hard and enjoy the moment! Life goes by fast.
20. What would you most like to tell yourself at age 13?
Take your time Durell, this moment is amazing!
Have more questions for Durell? Comment them below and he'll answer.
Are You #AllinforKids?

 
Join our community of changemakers and stay connected with us! 
Learn more about the work Communities In Schools is doing to empower and equip every student to take on and tear down the barriers that stand between them and an equitable path to education. 
↑

TO TOP