Staff Spotlight: 20 Questions in 60 Seconds with Kamila Thigpen
By Megan Hoel Sept. 12, 2016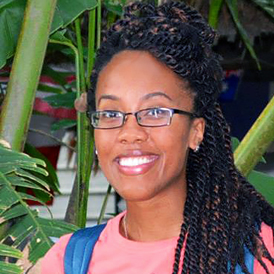 20 Questions in 60 Seconds is our blog series in which we interview Communities In Schools staff members. This week's guest is Kamila Thigpen, Director, Marketing and Brand Engagement at the Communities In Schools National office.
1. What three traits define you?
Creative. Ambitious. Detail-Oriented.
2. What is your personal philosophy? 
"Hakuna matata". Most of the time I don't follow my own personal philosophy, but it's an aspiration.
3. What would you like to be your greatest accomplishment?
Making the lives of the people around me better. 
4. What's one thing you couldn't live without?
My family.
5. What are you listening to/reading these days?
Lately, the Rachel Maddow Show Podcast has been keeping me company on the morning drive to work.
6. What is the greatest challenge you have had to overcome in your life thus far?
Fear of public speaking.
7. What is the one thing you cannot resist? (food/dessert/candy/etc.)
Cinnamon rolls. It's literally impossible for me to say no.
8. What is your greatest fear?
Disorganization. It drives me nuts!
9. Where is your favorite place to be?
Anywhere.
10. What is your favorite thing to do?
Tennis.
11. Where is the best place you've traveled to and why? 
Belize. It's the first and only place I've been outside of North America. It was so amazing, in fact, I went back again the very next year.
12. What's the weirdest job you've ever had?
A call center sales coach.
13. What does true leadership mean to you?
The ability to empower other people to be leaders in their own way.
14. Which one would you want most – flying cars, robot housekeepers, or moon cities?
Robot housekeepers for sure. I could save soooo much time, but then I'd probably end up wasting it anyway. :)
15. What has been the most important innovation you have witnessed in your lifetime? 
Mobile phones. They're a gift and a curse!
16. What would you do (for a career) if you weren't doing this?
Graphic/web design.
17. Do you have any pets? What kind?
An energetic, sweet, and silly dog (boxer-mix) named Charlie.
18. If you could do another job for just one day, what would it be? 
Definitely a marine biologist.
19. What would you most like to tell yourself at age 13? 
Being an adult is not as fun as you think it is. Don't rush to grow up.
20. How do you define success?
Sustained and genuine happiness that's not dependent on anyone or anything.
Have more questions for Kamila? Comment them below and she'll answer.
Are You #AllinforKids?

 
Join our community of changemakers and stay connected with us! 
Learn more about the work Communities In Schools is doing to empower and equip every student to take on and tear down the barriers that stand between them and an equitable path to education. 
↑

TO TOP