Homeless for the Holidays – A Barrier to Learning and Life
For most Americans, the holiday season conjures heart-warming images of families coming together around the hearth, snug and protected from the bite of early winter air. For people like Triston, who was homeless when he was a student at Walnut Grove High School in Loganville, Ga., that Rockwell-like scenario was something he could only dream of.  
When his father and mother were unable to care for him and his siblings, Triston had no place to call home. He constantly scrambled to find a safe, clean place to stay – usually with friends on a temporary basis – and enough food to eat.  
"I was on my own without my belongings, no money and no transportation," he told Communities In Schools in 2015.  "I had to learn to ask for help from others in order to make ends meet." 
Triston is, unfortunately, far from alone. According to U.S. Department of Education, there were more than 1.3 million homeless students enrolled in public schools in the 2013-2014 academic year, the latest year for which such data were available. That was 8% more than in the previous school year, and an 100% increase since 2006-2007. 
But many students are embarrassed to discuss their situations with teachers or adults. Too often, they suffer in silence and the signs that they are homeless go unnoticed, even though many are hiding in plain sight. 
Reducing the number of homeless students is a complex and stubborn challenge. At CIS, we know that the presence of JUST ONE committed and caring adult can help students overcome the considerable barriers that homelessness puts in front of them.  
For Triston, that one person was his CIS site coordinator Milisa Wise. Milisa got him help, found him a new place to live and ensured that he received free breakfast and lunch, as well as transportation to and from school. While in school, Triston also did well academically, graduating with a 3.5 GPA. Now Triston is a student at Pointe University in West Point, Ga., making him the first in his family to go to college.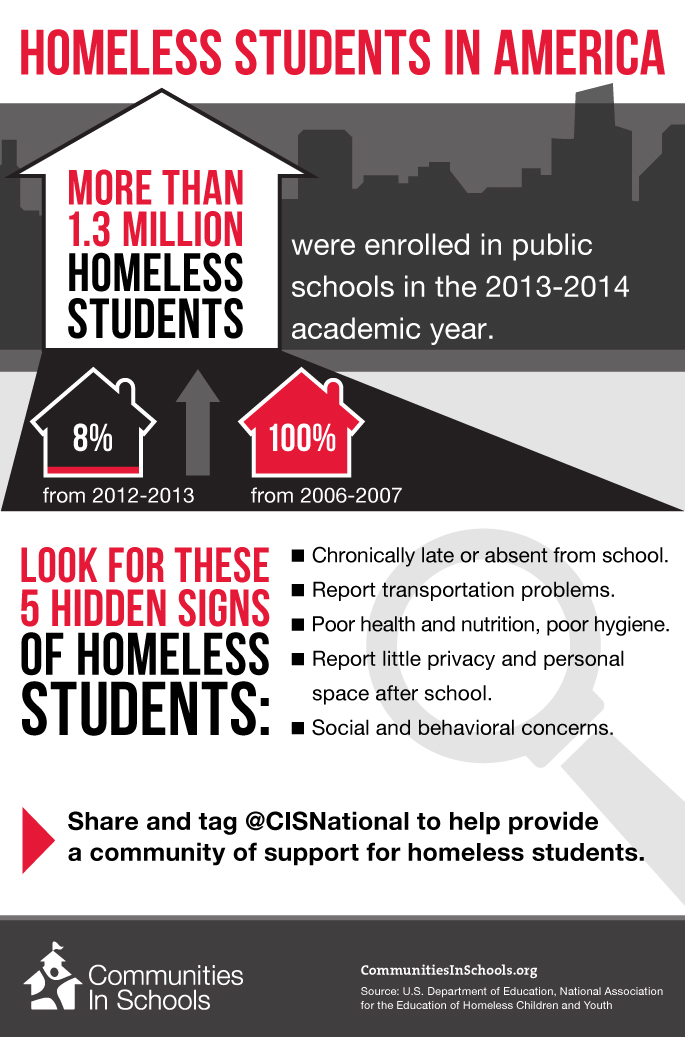 Are You #AllinforKids?

 
Join our community of changemakers and stay connected with us! 
Learn more about the work Communities In Schools is doing to empower and equip every student to take on and tear down the barriers that stand between them and an equitable path to education. 
↑

TO TOP