Staff Spotlight: 20 Questions in 60 Seconds with Crystal Gonzalez
By Megan Hoel Nov. 14, 2016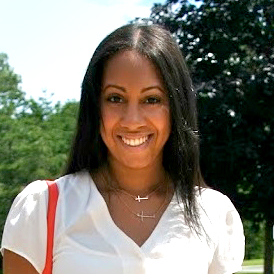 20 Questions in 60 Seconds is our blog series in which we interview Communities In Schools staff members. This week's guest is Crystal Gonzalez, Manager of Human Resources at the Communities In Schools National office.
1. If you could choose anyone, who would you pick as your mentor? 
My Mom (she's been through so much and is a great example of resilience).
2. If you could witness any event past, present or future, what would it be?
Past to present: witnessing the first ever African American president has been a history event in itself.
3. When you have 30 minutes of free-time, how do you pass the time?
On my phone on social media (bad I know, it's so addictive).
4. If you could travel anywhere in the world, where would it be?
I would take a year off work and travel all the states to see what they offer in each one.
5. If you could be any fictional character, who would you choose?
Cinderella, doesn't every girl want to be her for the happily ever after ending. :) 
6. What was the last experience that made you a stronger person? 
My trip to Europe. It was eye opening in the sense of where I grew up and how I never thought I would be able to take a trip as such.
7. What's your favorite indoor/outdoor activity? 
Shopping and that is an activity to me.
8. What chore do you absolutely hate doing? 
Washing dishes. It messes up my nails.
9. If you could meet anyone, living or dead, who would you meet? 
Oprah, her knowledge and wisdom is amazing.
10. Have you ever had something happen to you that you thought was bad but it turned out to be for the best? 
I wasn't doing well in community college and my mom gave me an ultimatum to do better or get out. I ended up going away to college and I became a first generation college graduate.
11. At what age did you become an adult?
I think the year I graduated college, I became an adult.
12. What three traits define you
Detail oriented, fashionable and loyal.
13. What is your personal philosophy?
My mantra is simple: do unto others as you would like done unto you.
14. What's the weirdest job you've ever had?
My first job at 16 at Claire's, an accessory store, and they let me pierce ears.
15. What's the coolest (or most important) trend you see today?
Social media and the impact it has on many things.
16. What would you do (for a career) if you weren't doing this? 
Something in the fashion industry.
17. What advice do you have for kids who are struggling in school? 
Although it may be hard at times in school, education can take you far in life. Stick the course.
18. What would you most like to tell yourself at age 13? 
Patience is key and in due time your time will come.
19. How do you define success? 
Success is being able to do what you love.
20. What is your favorite thing about working at Communities In Schools?
What I enjoy most about working at CIS is our mission and being able to help kids in poverty to succeed in life.
Have more questions for Crystal? Comment them below and she'll answer.
Are You #AllinforKids?

 
Join our community of changemakers and stay connected with us! 
Learn more about the work Communities In Schools is doing to empower and equip every student to take on and tear down the barriers that stand between them and an equitable path to education. 
↑

TO TOP