Staff Spotlight: 20 Questions in 60 Seconds with Julie Dennis
By Megan Hoel Nov. 21, 2016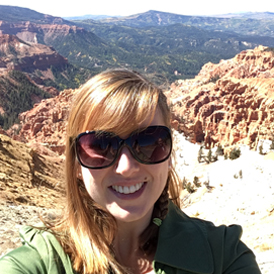 20 Questions in 60 Seconds is our blog series in which we interview Communities In Schools staff members. This week's guest is Julie Dennis, Manager, Standards and Accountability at the Communities In Schools National office.
1. What would you name the autobiography of your life?
If My Life Were a Musical
2. If you could witness any event past, present or future, what would it be?
I'm feeling patriotic since it's the election season, so I'll say when women gained the right to vote.
3. If you could learn to do anything, what would it be? 
Speak French – I'm a visual learner so languages in general tend to be difficult for me.
4. If you won the lottery, what is the first thing you would do?
Since I'm in the market to buy a condo/house/cardboard box of my own, I'd say buy real estate in the area. It's very expensive to buy in DC/VA/MD area!
5. When you have 30 minutes of free-time, how do you pass the time?
Paint my nails – it's how I zone out (and helps me save $$ doing it on my own).
6. If you could travel anywhere in the world, where would it be?
Germany – I was there earlier this year, but I want to trace my family roots and visit where my great -grandmother was born.
7. If you could be any fictional character, who would you choose?
Mary Poppins – so I could be practically perfect in every way
8. What was the last experience that made you a stronger person?
I would say graduate school – I never knew I could do so many things in such a short 15-week period!
9. What is something you learned in the last week?
ESSA's Title IV Part A is at risk of being underfunded.
10. What's your favorite indoor/outdoor activity?
I like to run – especially  in cooler, fall and winter temps!
11. What chore do you absolutely hate doing?
Folding – there is a washer, there is a dryer, where is the folder?
12. What was the first thing you bought with your own money?
I'd love to say it was something totally cool, but I'm sure it was something more practical like new clothes for my job or a new baking sheet for my kitchen.
13. What three traits define you?
Passionate, outgoing, arts-lover
14. What is your personal philosophy?
I love the old army slogan – Be all the you can be. I always wonder what the world would be like if we all strived to our fullest potential every day.
15. Ten years ago, who did you think you would be now?
I moved to DC to work in a non-profit theater, so I imagined I'd be working in that field.
16. What's the weirdest job you've ever had?
Babysitting children has always been interesting. I've done everything from helped kiddos put on plays to pick up dead mice. Never a dull moment!
17. What's the coolest (or most important) trend you see today?
I love that high school graduation rates are at an all-time high. However, we now need to make sure these graduates go on to college (or a technical career school) in order to be prepared for the workforce.
18. What advice do you have for kids who are struggling in school?
Don't let anyone or anything stop you because even when you think you can't do something, yes you can.
19. Tell us something that might surprise us about you.
I've completed two half-marathons and teach BodyPump at my gym in Bethesda.
20. What is your favorite thing about working at Communities In Schools?
I love visiting schools for site visits and seeing the impact we are having on kids.
Have more questions for Julie? Comment them below and she'll answer.
Are You #AllinforKids?

 
Join our community of changemakers and stay connected with us! 
Learn more about the work Communities In Schools is doing to empower and equip every student to take on and tear down the barriers that stand between them and an equitable path to education. 
↑

TO TOP