Staff Spotlight: 20 Questions in 60 Seconds with Dale Erquiaga
By Megan Hoel Jan. 9, 2017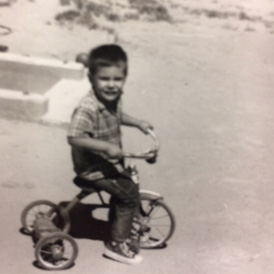 20 Questions in 60 Seconds is our blog series in which we interview Communities In Schools staff members. This week's guest is Dale Erquiaga, President and CEO of Communities In Schools National office.
1. What would you name the autobiography of your life?  
Sweet Dreams Are Made of This. 
2. What songs are included on the soundtrack to your life?  
Sweet Dreams, by the Eurythmics. 
You Lift Me Up, by Josh Groban. 
Mozart's Clarinet Concerto in A, second movement. 
3. If you could learn to do anything, what would it be?  
Play the piano.
4. If you won the lottery, what is the first thing you would do?  
Pay off my children's college educations. 
5. If you could travel anywhere in the world, where would it be?  
Israel, Egypt and the Middle East. 
6. If you could be any fictional character, who would you choose? 
Merlin, the master wizard from King Arthur's Camelot.
7. That was the last experience that made you a stronger person?  
The 2015 legislative session in Nevada, helping to architect and secure passage of Governor Sandoval's vision for K-12 education.
8. What's your favorite indoor/outdoor activity?  
Indoor – reading. 
Outdoor - hiking.  
9. What chore do you absolutely hate doing?  
Cleaning the bathroom. 
10. If you could meet anyone, living or dead, who would you meet?  
Gore Vidal, noted American novelist and essayist; I collect his works and admire his command of language and use of the semicolon. 
11. Have you ever had something happen to you that you thought was bad but it turned out to be for the best?  
End of a relationship, 2015.  
12. What was the first thing you bought with your own money?  
A calculator (7th grade).  
13. At what age did you become an adult?  
Still waiting.
14. What three traits define you  
Nice, funny, smart.
15. What's the weirdest job you've ever had?  
Ballroom dance instructor-in-training.
16. What's the coolest (or most important) trend you see today?  
Resurgence of card games among video game-playing millennials.
17. What advice do you have for kids who are struggling in school?  
"Find a cool adult you respect." 
18. What would you most like to tell yourself at age 13?  
"You won't always be this fat." 
19. How do you define success?  
Two things:  Improving the lives of others, and being admired by my children. 
20. What is your favorite thing about working at Communities In Schools? 
Teamwork to solve old problems and create new things that will help kids.
Have more questions for Dale? Comment them below and he'll answer.
Are You #AllinforKids?

 
Join our community of changemakers and stay connected with us! 
Learn more about the work Communities In Schools is doing to empower and equip every student to take on and tear down the barriers that stand between them and an equitable path to education. 
↑

TO TOP