Staff Spotlight: 20 Questions in 60 Seconds with Brenda Gonzalez
By Megan Hoel Feb. 13, 2017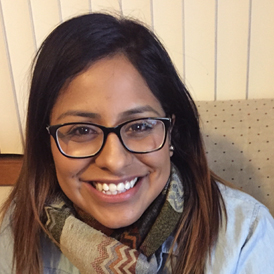 20 Questions in 60 Seconds is our blog series in which we interview Communities In Schools staff members. This week's guest is Brenda Gonzalez, site coordinator at CIS Benton-Franklin.
1. What would you name the autobiography of your life?
Life is not about waiting for the storm to pass... it's about learning to dance in the rain.
2. If you could choose anyone, who would you pick as your mentor?
Ellen DeGeneres. She is so strong yet positive and funny.
3. If you won the lottery, what is the first thing you would do?
Pay off student loans then help out my parents and in-laws.
4. When you have 30 minutes of free-time, how do you pass the time?
Crafting, designing basically any art/creative project. It is my zen.
5. If you could travel anywhere in the world, where would it be?
The Dominican Republic.
6. What was the last experience that made you a stronger person?
Being sleep deprived for a year due to my second daughter not sleeping through the night. I managed to work and be there for myself and my family. I learned that I can keep it together even when I don't feel it.
7. What's the best/worst gift you've ever given/received?
The worst, happy meal toys... the best is my children.
8. What story does your family always tell about you?
The time I went to Mexico with my family and I did not sleep because I was so scared of scorpions. In the meantime, they all slept like babies.
9. What's your favorite indoor/outdoor activity?
I love to swim yet don't do it often.
10. What chore do you absolutely hate doing?
Cleaning our bathroom. Ugh.
11. If you could meet anyone, living or dead, who would you meet?
Barack Obama. Ellen DeGeneres.
12. What was the first thing you bought with your own money?
My 1995 Toyota Corolla.
13. At what age did you become an adult?
17, when I went off for college.
14.  What three traits define you?
Independent, Open-minded and Caring.
15. What is your personal philosophy?
To find balance in my mind, body and soul.
16. What's the coolest (or most important) trend you see today?
Social movements. People are standing up for what they believe in. Younger generations are more involved in politics.
17. What advice do you have for kids who are struggling in school?
Some days are bad and some days are good. Be positive, stay strong, and get enough rest. You can't do it all but you can do your best. Your best is worth more than to just give up.
18. What would you most like to tell yourself at age 13?
Fall in love with taking care of yourself. Mind. Body. Spirit.
19. How do you define success?
Success does not lie in "results" but in "efforts". That is where we grow.
20. What is your favorite thing about working at Communities In Schools?
The families and their students. They show me how resilient one can be.
Are You #AllinforKids?

 
Join our community of changemakers and stay connected with us! 
Learn more about the work Communities In Schools is doing to empower and equip every student to take on and tear down the barriers that stand between them and an equitable path to education. 
↑

TO TOP