Staff Spotlight: 20 Questions in 60 Seconds with Jonathan Fenner
By Megan Hoel Feb. 27, 2017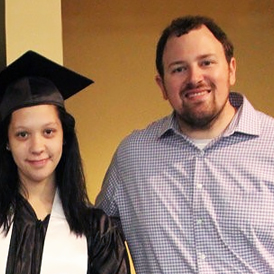 20 Questions in 60 Seconds is our blog series in which we interview Communities In Schools staff members. This week's guest is Jonathan Fenner, Allentown Reengagement Manager, CIS of the Lehigh Valley.
1. If you could choose anyone, who would you pick as your mentor?
Former President Barrack Obama- I'd like to pick the brain of someone who has just held the most difficult and demanding job in the world.  I'd ask a million questions but I'm very interested in how he deals with people, handles stress/adversity, and brings groups of people together to accomplish goals
2. If you could could witness any event past, present or future, what would it be?
The 1936 Berlin Olympics- I enjoy US History and the history of sports. These Olympics were a very important event in both areas as the US used this as a platform to show the world the signifficance of racial equality and social rights through sport
3. If you could learn to do anything, what would it be?
I would like to be better at building and fixing things
4. If you won the lottery, what is the first thing you would do?
Travel (US/National Parks/Hawaii, Europe), save/invest, and continue my education if there was any money left over!
5. When you have 30 minutes of free-time, how do you pass the time?
I enjoy listening to podcasts on sports, politics, and history
6. If you could travel anywhere in the world, where would it be?
I would complete visiting all of the national parks by doing a cross country road trip and taking my time!
7. What was the last experience that made you a stronger person?
Any experience (work or personal) that I've yet to experience in my life better prepares me for the future.  I love to see, learn, and go through new things.
8. What's the best/worst gift you've ever given/received?
Worst- any clothing  Best- any time that my wife and I plan trips as gifts to each other
9. What's your favorite indoor/outdoor activity?
Outdoor- traveling, hiking, biking, coaching football.  Indoor- watching college football, exercising, cooking
10. If you could meet anyone, living or dead, who would you meet?
Family members (great grandfathers, ancestor who traveled to America from Europe, Abraham Lincoln
11. Have you ever had something happen to you that you thought was bad but it turned out to be for the best?
I was furloughed from my teaching career because of budget cuts.  At the time, I thought it was the worst thing that could have happened to me.  I was living, working, and coaching in my hometown, making a great salary, and working with my friends.  Without the experience of losing my job, I wouldn't have been able to have experienced what I have been able to (working at CIS) in additional to all of the doors that have opened because of working at CIS
12. At what age did you become an adult?
Yet to be determined
13. What three traits define you?
Hardworking, loyal, competitive
14. What is your personal philosophy?
If you work hard, good things will happen
15. What's the weirdest job you've ever had?
Cemetery/cremation business
16. What's the coolest (or most important) trend you see today?
Most important- seeing how things change as technology takes over our industries, work environments, and personal lives
17. What would you do (for a career) if you weren't doing this?
Coaching college football, teaching at a college
18. What advice do you have for kids who are struggling in school?
If you surround yourself with enough positive things, they will build/shape you and good things will happen
19. How do you define success?
Success is the totality of your experiences, victories, losses, and the process throughout those things.  Success is being happy, having balance, and making a positive contribution towards whatever you are doing in your life.
20. What is your favorite thing about working at Communities In Schools?
I enjoy my specific scope of work (reengagement) with CIS.  I really enjoy giving students the tools that they need to be more successful in life.  I want to be able to help students get to a better place in their lives. 
Are You #AllinforKids?

 
Join our community of changemakers and stay connected with us! 
Learn more about the work Communities In Schools is doing to empower and equip every student to take on and tear down the barriers that stand between them and an equitable path to education. 
↑

TO TOP