Operation Next: Writing the Next Chapter of CIS History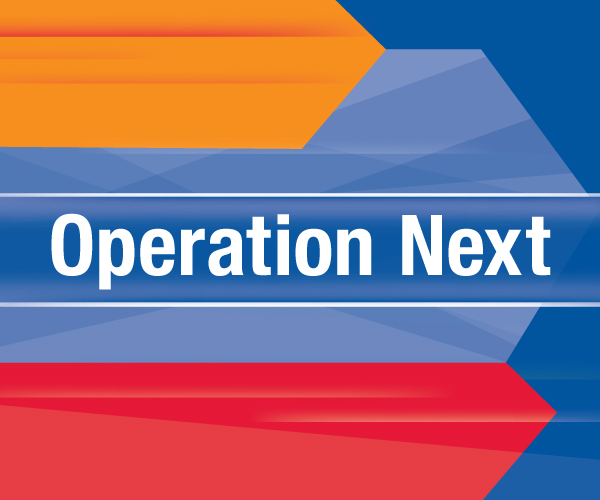 This year, as Communities In Schools prepares to celebrate 40 years of empowering success for all students, I've been reflecting on how our network will write the next chapter of CIS history. And I'm reminded of just how revolutionary and transformational the idea of going inside schools to help at-risk kids was, when it was first proposed.
The seeds of this idea were planted in the 1960's when Bill Milliken began a journey that would leave a deep imprint on his own life and the organization he helped to found. Inspired by the teachings of a group dedicated to helping young people in need, Bill set out to make a difference in his own community. His work evolved into a series of "street academies," storefront schools in Harlem, the Lower East Side and Bedford-Stuyvesant that helped dropouts finish high school and go on to college.
Bill's transformational idea was an expression of principles that now form the essence of the CIS model of providing Integrated Student Supports. We go inside schools where at-risk kids are, build trusting relationships with them and treat them as a whole person rather than just focusing on the problems afflicting them.
Although radical at the time, today that approach has gained widespread acceptance. That is in part, because this organization has invested millions of dollars and countless hours of research to build an evidence-based model for Integrated Student Supports and a Total Quality System to ensure fidelity. More recently we worked hard to ensure it was written into the new federal education law (ESSA).  
Over the years we've adapted to new challenges, seized new opportunities and created new ways of working, all while holding true to our core purpose of building powerful relationships that transform the lives of young people. Now, during this milestone year, I believe we must again be prepared to innovate and chart a course for the future.
That future involves meeting our moral obligation to grow and serve more students. While we are the nation's largest provider of Integrated Student Supports serving nearly 1.5 million children in 25 states and DC, we know that 14.5 million children live in poverty and live outside the reach of our evidence-based model. We must set a strategy for serving more students at risk.  
But even as we grow, we must also create pathways for organizational sustainability. Budgetary pressures at the national and affiliate level persist. They are being exacerbated by a proposed new federal budget that would eliminate or cut funding to vital programs that currently sustain our work. We must identify new sources of revenue to sustain the work. 
Finally, our research tells us that, as a learning organization, we must continually improve student supports in the schools we serve. That requires new strategies to deepen the delivery of our model. 
Sustain, deepen and grow with quality – that is the work of the next chapter of CIS history. How we get there is a process we're calling "Operation Next." Here's a glimpse at what's underway:
A new marketing communication campaign is refining how we tell our story and setting an audience segmentation strategy to deliver the right message to the right people at the right time. We plan to unveil the new work in May.
We are looking at new strategies with an eye toward financial sustainability across the network (national and local), the value proposition of services from the national office, and guidance on building market demand and unlocking public funding.
We are exploring the most viable strategic options to sustain, deepen and grow in ways to ensure transformational impact for more at-risk students. This work is being done in conjunction with a team of external experts, as well as our board, affiliate leaders, funders, educators, partners and other stakeholders.
All this work will culminate in a focused organizational vision, complete with a plan, budget and fundraising prospectus. It's expected to be complete by the fall of this year.
Operation Next is exciting, heady and frankly difficult work. That's why we're grounding it in this set of Guiding Principles to keep us pointed in the right direction:
We believe that every child in America, regardless of circumstance, deserves a seamless system of support so they can stay in school and graduate with the knowledge, skills, values and dispositions they need to achieve in life.
We believe that barriers like poverty and structural racism can be overcome through a clear focus on educational equity and a commensurate system of supports.
We believe that a caring adult relationship in the life of every child is the key to ultimate empowerment and success.
We believe that the CIS network – the combined power of a national office and local affiliates operating in schools and delivering our proven model of Integrated Student Supports – is the flagship dropout prevention organization in America delivering positive outcomes for kids.
We believe that through partnerships, training and a focus on evidence-based program quality, we can assist in the growth of many other providers who deliver Integrated Student Supports in a manner that ensures positive outcomes for young people.
These principles are essentially the same as those embraced at the founding of our organization more than 40 years ago. Now they will serve as a point on the horizon as we chart a course for the next chapter in our story – which, like all of the CIS story, will be written as part of a collective effort. To do that, we will draw upon the wisdom of leaders like Bill Milliken, members of our Board and some of the "founding fathers and mothers" of our affiliate network. We will also tap into the energy and expertise of our affiliates during the fact-finding part of our research. And we will call on trusted partners to help in clarifying our vision and brainstorming new pathways to sustain, deepen and grow. 
In this way, we know that our next chapter will include the shared belief that every child in America, regardless of circumstance, deserves a community of support to empower success in life. 
Stay tuned for what happens next! In the meantime, thank you for going #AllinForKids 
Are You #AllinforKids?

 
Join our community of changemakers and stay connected with us! 
Learn more about the work Communities In Schools is doing to empower and equip every student to take on and tear down the barriers that stand between them and an equitable path to education. 
↑

TO TOP