Resources for Hurricane Harvey Response
By Elizabeth Tuten Aug. 31, 2017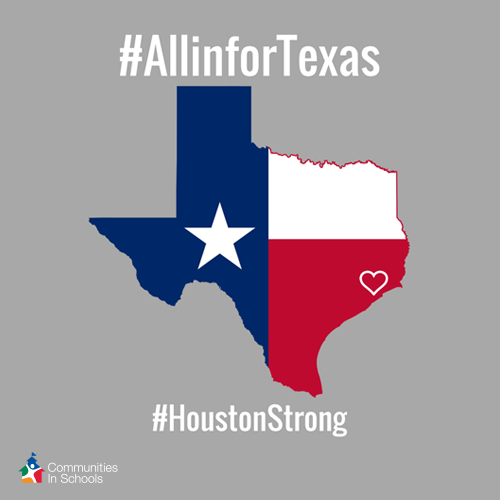 As the waters begin to recede and the damage is surveyed, it is imperative that Americans mobilize in support of the affected students, families, affiliates, and schools. We, too, feel overwhelmed by the disaster and subsequent outpouring of information, so we've created a resource guide to help those ready to act do so with knowledge and precision.
In the months ahead CIS plans to supplement the unmet needs of those affected with financial, strategic, technical, and on-the-ground support.
Thank you for being #AllInForKids and #AllInForTexas
Know where to direct those who wish to donate or volunteer:
South Texas Blood and Tissue Center
National Voluntary Organizations Active in Disaster (NVOAD)
Know the educational rights of displaced students:
The McKinney-Vento Homeless Assistance Act provides educational protections for students experiencing homelessness, including those displaced by natural disasters.
The act requires that:
· Districts keep their students enrolled at their original schools to the extent possible.
· Districts provide transportation to and from the school of origin.
· Districts and state educational agencies review and revise any policies that are barriers to enrollment or retention of students in homeless situations .
· Students are enrolled immediately regardless of document/record/immunization requirements.
Know how to navigate an education system burdened by disaster:
The National Center for Homeless Education's Toolbox In Case of Disaster contains many helpful documents including guides to filling out forms and checklists for organization can be found here.
The Texas Education Agency's Dealing With Disasters FAQ can be found here.
Know how to talk to children and youth coping with disaster trauma and how to connect them to mental health resources:
· A four-page downloadable guide for parents and teachers to understand common reactions of children to disasters and trauma.
Are You #AllinforKids?

 
Join our community of changemakers and stay connected with us! 
Learn more about the work Communities In Schools is doing to empower and equip every student to take on and tear down the barriers that stand between them and an equitable path to education. 
↑

TO TOP