In Schools for Kids: Take Two
By Megan Hoel Aug. 15, 2017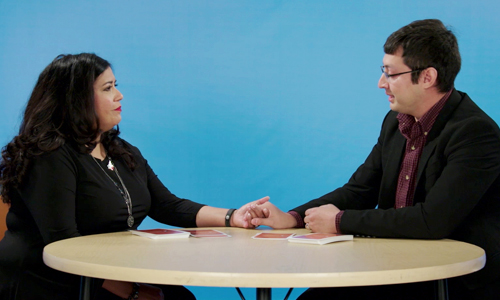 In a modest studio set under bright lights, two people sit across from one another fully in tune to hear what the other has to say. What happens next is a moment worth remembering. After an exchange of heartfelt words of affirmation, teary-eyes and smiling faces, Communities In Schools mentors reunited with students from their past.
This was the scene at the filming of our Communities In Schools, "In Schools for Kids", video where we brought together CIS mentor, Dafney and her past student Frank, who initially met on Frank's first day of high school 11 years ago. Tears, smiles and trips down memory lane were just a few of the things that CIS captured. After filming was done and everyone went their separate ways, CIS decided to dive deeper into the undeniable bond that Dafney and Frank had, and continue to have. Below is an interview of their experience.
Past Student: Frank Gonzalez [FG]
Mentor: Dafney Bell [DB]
Q: You sat down with one another after not seeing eachother for a long time, how did that feel?
FG: I wasn't sure what to expect, I was nervous at first…before the recording I always thought about how I would be able to thank my site coordinator [Dafney] in person for everything she has done. Even to this day, from my first day of high school to now, about 11 years later, I still have no idea how to tell her how appreciative I am for her, for her selfless service and her dedication to me. No amount of time is enough for me to accurately thank her and tell her how much of an impact her work had on me. There's no way to thank someone to that degree.
DB: I felt vast emotions- I think the strongest emotion was pride. I'm so proud of him [Frank], proud of the accomplishments that he has done, knowing all the obstacles that were against him. I felt happy, I felt very honored. I think a lot of people who work in education don't get the opportunity to see the success of their work. We deal with their daily struggles, and kind of send them off; you hope and wish but I don't think it's the norm for them to come back to tell you how they are doing and how much you meant to them. I felt very honored, very blessed to be sitting across from him.
Q: This person has obviously impacted your life for the better, can you give a specific moment/event that you knew they were changing the trajectory of your life? 
FG: I really knew she was helping me when I started seeing more of her one-on-one and she started introducing us to professional people and CIS alumni who had succeeded in life. She brought in a range of presenters from alumni to current college students to even a professional athlete. I remember thinking wow, if she could help someone get all the way to the NBA, she can help me get to college.
DB: I would see him struggle as he was growing. He had all these ideas, things that were more mature than the average student around him. I knew he was failing because I knew that he came on too strong and in order to be a leader, in order to get people to follow you, you have to learn how to express yourself with kindness and encouragement. I knew that was his obstacle. I knew it wasn't intentional, and he learned. It's not an easy thing to learn and it's not easy to be a leader. When he went to study abroad in Africa, I could hear it in his dialogue, the way he articulated himself. He came back confident and expanded my knowledge. He even came back and spoke to my current students. This was something that he knew I couldn't share myself; he wanted to come back and share his experiences. Everyone always says, you're waiting for someone to come save you….no one is coming, you're it. He gets that, he understands that.
Q: Is there anything you wish to say to your site coordinator/student that you weren't able to during the filming?
FG: For a long time, I knew I could rely on her, and now it's more of a reverse position. Now she can come to me when she needs something, I make sure I can give her the most value of my time for anything she needs for CIS. The role of mentor to mentee is always shifting back and forth.
DB: Oh my gosh, hmmm…. I got to see him on the airplane ride back and it was funny because he hadn't seen the final video and he had told me before, 'Ms. Bell you're going to be famous', and I said 'what do you mean?' And he said, 'everyone's going to know who you are'. And I'm like 'whatever', but he was right. People came up to me and would talk to me about the video. So, in a sense he was right, and I told him and he said, 'I told you', even though he hadn't even seen the video he knew. I'm just so proud of him, the father and husband that he has become, he's very encouraging to his wife, that she gets the dreams she wants as well.
Experience the entire "In Schools for Kids" video here.
Are You #AllinforKids?

 
Join our community of changemakers and stay connected with us! 
Learn more about the work Communities In Schools is doing to empower and equip every student to take on and tear down the barriers that stand between them and an equitable path to education. 
↑

TO TOP