All In For Texas: A Special Message from CIS of Houston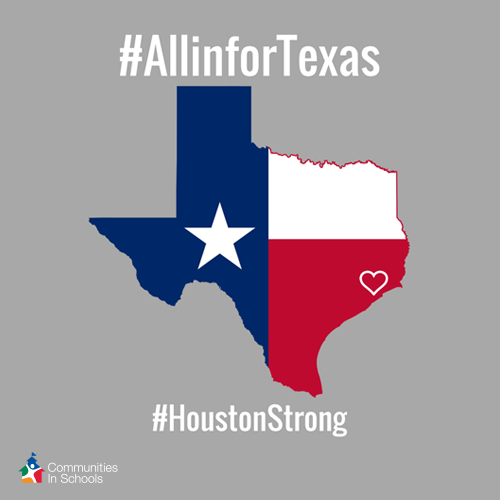 Our CIS affiliates along the Texas Gulf Coast are working hard to rebuild and recover from Hurricane Harvey. One of the hardest hit affiliates is Communities In Schools of Houston which works inside schools supporting more than 111,000 students and their families each year.
Despite damage at hundreds of campuses, students in that city will return to classes next Monday, so that schools can become a safe space for kids whose families suffered losses or who were displaced by the storm.
CIS of Houston is preparing to help welcome those students back and surround them with a community of support.  Cynthia Clay-Briggs, Executive Director of CIS of Houston provided this update on the recovery and offered her gratitude to those who are supporting their efforts through the All In For Texas Relief Fund.
 To My CIS Family, Friends and Supporters,  
Thank you all for caring and for being the voice of our students and staffers here in Texas and across the country.  This is going to be a long-haul effort for our students and their families. Many jobs are gone – there are businesses that were destroyed and that will be unable to recover.  The dwellings that many of our children lived in will not be rebuilt. The seriousness of need is going to last a long time.  Some campuses have not yet been assessed for damage. We will need all of you and so will our schools. 
There has been quite a lot happening behind the scenes. Many of our CIS staffers lost everything. Several are still in shelters with their entire families. Other staff have received emergency stipends for food, gas, cleaning supplies and replacement medicine. We are in triage mode. But we are so moved by individual acts of generosity. As an example, one of our CIS staff members just picked up a car at our office that was loaned to them by one of our board members.
We are in daily contact and planning with school district leaders, the county, the city and our partners including United Way on a daily basis to coordinate our recovery efforts.
We are thankful that our state and national offices are rallying around those efforts and have offered support, genuine concern and daily prayers.
At this point, the best anyone can do to support CIS staff, students and their families is to donate to the All In For Texas Relief Fund.  Thank you for caring!! 
Hugs and so much gratitude,
Cynthia
Are You #AllinforKids?

 
Join our community of changemakers and stay connected with us! 
Learn more about the work Communities In Schools is doing to empower and equip every student to take on and tear down the barriers that stand between them and an equitable path to education. 
↑

TO TOP